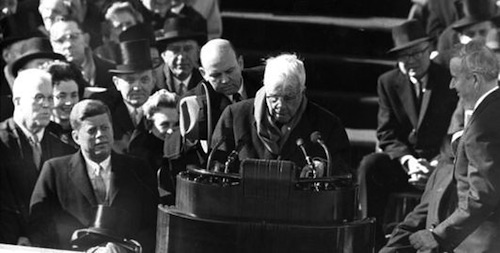 It's not all hearts and flowers when it comes to ushering the Commander-in-Chief into office. That was as true for Horace as it will be for Richard Blanco, according to this Washington Post article. Ron Charles looks at the risks involved with occasional poetry. To illustrate his point, Charles spoke to a number of poetry-experts. Let's take a look at what they had to say.
First off is Jonathan Galassi, "a distinguished poet and the president of the publishing company Farrar, Straus & Giroux," who "points out that the tradition of what's called 'occasional poetry' — poetry written for a specific occasion — has ancient roots." He goes on:
"Think about Horace," he said from his office in New York. "He wrote great occasional poems for Augustus. And you could say that 'The Aeneid' is a public poem: It's about the founding of Rome. It's a political statement. And there are other great poems that were inspired by political moments."

[...]

The danger Galassi sees is that occasional poetry "can become empty and wooden. I'm not a great lover of official poetry, but I do think the idea that poetry is used in the inauguration to emphasize certain values is politically and culturally significant."
Mary Karr weighs in:
Poet Mary Karr acknowledges that "many poets are skeptical of an inauguration poem, but I'm not." Speaking from her home in Upstate New York, she said: "Any forum that puts a poet on the national stage with the presumption that that person is going to be relevant and interesting, that's a good thing. And I love the idea of an immigrant at a time like this. Does it politicize the position? Yes, but it doesn't hurt poetry."
Then the poetry editor at Knopf, Deborah Garrison, says: "You're being asked to speak for a nation. You have to find a way to make it every person's story. How do you get to the big issues, the big themes?"
Garrison Keillor offers a tune-off, drop-out approach: "This is one honor that should be politely declined. The poor poet steps out on stage in the midst of all that pomp and the vast crowd is restless and the poem drops (plink) like a small stone in a big lake and everyone thinks, 'That's it?' Robert Frost made a good show of it, and everyone since then has been a clinker."
Charles ends the piece by speaking with our own Senior Editor of Poetry magazine Don Share:
But Don Share, senior editor of Poetry Magazine, applauds the president's choice. Speaking from his office in Chicago, he said that Blanco's poems "sound like so many people in this country. He works in Spanish and English, a mixture that is our native language, and he makes it sounds like real poetry. This is poetry that speaks for and from a great number of Americans. He gives a voice to the kinds of experience that people undergo every single day. Even people who don't want to read it themselves can understand the value of a moment in which we say that this country is made of poetry."
Be sure to check in with your preferred media outlet on January 21st to hear Blanco step to the mic, and then...