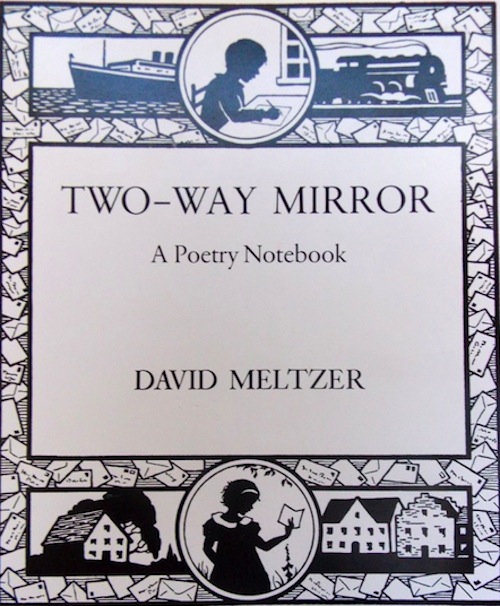 Next year, City Lights Press will publish an expanded reissue of Tw0-Way Mirror, David Meltzer's notebook of poetics. Garret Caples, Meltzer's editor at City Lights, has posted a thoughtful profile of both Meltzer and the forthcoming reissue on the City Lights Blog.
Two-Way Mirror first appeared in 1977 on Oyez Press, Robert Hawley's Bay Area imprint, and is both a writing manual and compilation of texts for meditation and inspiration. As Caples puts it, the book "functions at an oblique, epiphantic angle, its pedagogical method perhaps best suggested by a Venn diagram formed from aphorism, zen koans, and Wittgenstein."
We would love to have known about Meltzer's book when we first started writing and can imagine turning to it as often as Bernadette Mayer's writing experiments. Meltzer writes that the book was initially meant for younger writers:
[T]he impulse was to have some kind of book for younger people, like high school students, who had the possibility of being at the advent of this form for themselves, and knowing how terribly the subject was taught in high schools in 1977.  I was pitching it as something basic but enigmatic, as mysteries are.  So the book was nonlinear and basically just various quotes to mull over.  Like a section of curious instructions: write a love poem without using the word 'love,' stuff like that, and also a little memoir of how I wrote my first poem is tucked in there.  And other odd disparate texts that are just seemingly in there like fortune cookies.
At 75, Meltzer continues to expand his ideas about both poetry and teaching. In conjunction with the reissue of Two-Way Mirror, he will deliver a four-part lecture series and writing seminar at Mythos Gallery in Berkeley. Meltzer calls the series "Basic Mysteries," and hopes the lecture series will help him generate a new section for Two-Way Mirror.
If you're lucky enough to be in the Bay Area during February, you can attend one or all of these lectures. Details are on the Mythos Gallery website.