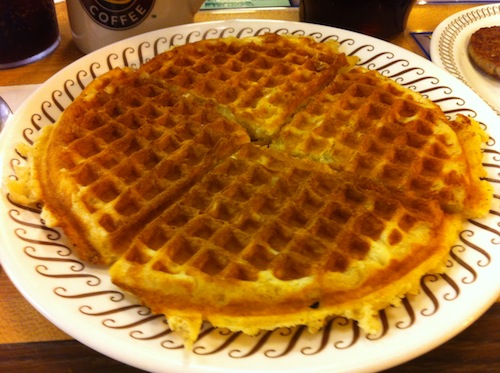 It's Monday. We at Harriet are reassembling our collective consciousness and getting on with the work week. In this New York Times article that walks through a typical weekend with Tracy K. Smith and her family, we've been reminded how utterly sweet that two-day stretch can be in. Ever wonder what a Pulitzer Prize winning poet has for a weekend breakfast? This:
BREAKFAST NOSTALGIA We'll cook breakfast around 10 or 11. I sometimes feel like I'm trying to relive part of my own childhood, making waffles and stuff. I don't have the wherewithal to do what my mother did. There were five kids in my house growing up in Fairfield, in Northern California, and during what I think of as the golden years, there would be waffles and lots of egg options and bacon and homemade bread. It's probably magnified by my nostalgia for it.
Then after spending some time in the gym, it's time to hunker down to her writing desk. After all, prize winning poems don't write themselves!
TO THE DESK If I haven't been away, I might break off and do some writing. I'm working on a memoir now. I guess it starts with all those big breakfasts from my childhood. I'm the youngest, and I've been going back to those years when everyone was living at home. My mother passed away when I was 22, of cancer. The book explores that loss and the ramifications from it. I find that when I'm working on a poem, it's a different pocket of time I want — ideally, a weekday when everyone else is working. I love feeling that I'm stealing something by sitting down in the middle of the day.
Read about the rest of her weekend here. We love to hear how poets spend their off-hours. But we only wish the NYTs ran such a feature on the average Charles Bukowski weekend. Yikes!