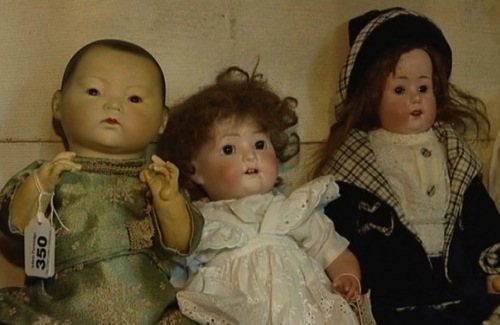 Daniel Borzutzky writes on the new issue of Fence (Winter 2012-13) for Montevidayo--specifically, a dossier of Russian poetry, and more specifically, "The Doll Incident," by Sergej Timofejev, translated by Keven M.F. Platt, Julia Bloch, Maya Vinokour, and Timofejev himself. "[T]his poem by Timofejev just blew me away," writes Borzutzky. More:
It begins:

"I see 25,000 defective Chinese dolls/Scattering, like energized peas, from several/Trains they seized at the border. They/Occupy cafés, bazaars, and supermarkets. And then/They set up field kitchens on the streets and start/Distributing broth made out of genetically modified soya and plastic packets."

The "Incident" with the dolls is in reality an international war. The dolls "can't be injured," and their plastic flesh regenerates and when they are struck by bullets they resurrect. NATO forces seal the borders and isolate the territories, in which the dolls "impose a harsh regime," broadcasting on TV "only black-and-white puppet-animation from the 60s," driving the nation to the "brink of extinction." NATO jets drop stoves over the occupied nation, and the dolls are shoved into the stoves. And then everything ends happily ever after as "all local racial and ethnic/Conflicts are forgotten, and a new era of handicrafts and ecological thinking dawns."

Kevin Platt, in his introduction to the Russian dossier, provides an appropriate transnational/translational frame through which to approach the writing, suggesting that the poems in the symposium can each be read as "a commentary or critique of national and political borders and identities." And yes "The Doll Incident" provides a literal puppetization of nation-states and of the ideologies that suggest that the shit on one side of an invisible smells better than the shit on another.

"The Doll Incident" does all of this, to be sure, but the poem's voice, brought to us through the team of translators that includes the author, is perfectly performed: a journalistic/documentary/historical voice that presents World War Doll as if it were utterly human and normal. Shklovsky and Kharms come to mind here, but so does Patrik Ouředník's brilliant novel Europeana: A Brief Hisory of the Twentieth Century. And so does my favorite Caryl Churchill play, Far Away, which presents its own obliteration of national identities through a climactic final scene in which there is an apocalyptic war that is as local as the characters' bodies and as distant as the mews of the cats who 'have come in on the side of the French.'
Read the whole piece. And we dug up a good interview with Timofejev at 3:AM MAGAZINE. He gets a little Spicer.