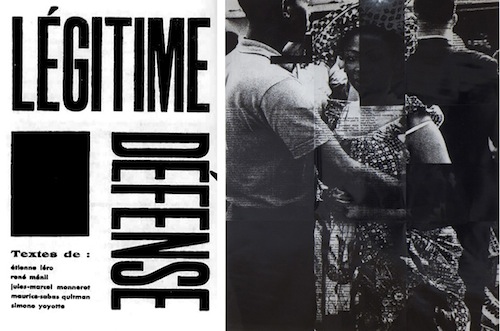 If you are in or near New York City this Friday and Saturday, February 8-9, the Performa Institute and NYU are hosting "Get Ready for the Marvelous: Black Surrealism in Dakar, Fort-de-France, Havana, Johannesburg, New York City, Paris, Port-au-Prince, 1932-2013," "a two-day symposium focusing on international black artists who were directly or tangentially involved in Surrealism, engaging with it as an ideology, artistic movement, and a state of mind—a way of being in the world—and their influence on contemporary art and culture throughout the African Diaspora." Performa Magazine has made available some awesome materials in the interim, including an English translation of a brief conversation with Aimé Césaire on surrealism, filmed in 1994. Par exemple:
Aimé Césaire: . . . I am not a man of movements. I am not a man of clan! It wasn't at all my direction! What did I find in the Surrealists, that I love enormously? I admire André Breton a lot. And I admired and loved profoundly the man. Well, I was less with Aragon. I found him too urbane, pathetic actually, a bit of a socialite, which I could not bear, especially coming from a Communist comrade. Well, it shocked me. Whereas Breton posited himself on the same level, a Celt, a mystic, a love for the wonderful. It is extraordinary, a man who had an astonishing sense of poetry; it's prodigious. He found it everywhere; in the street and in the landscape. In the 'objet brut'. It's wonderful, Breton. A detector of poetry! A fantastic man and with an extraordinary purity. But, pardon me, still the same issue, I love the Surrealists a lot. I love André Breton a lot but it is always the same for me: I never forgot I was a Martinican.

[. . .]

No, I never forgot that, you understand? Never. So that in this respect I enter what I got from Surrealism. What is it? Well, it is not the wonderful; we Martinicans have this naturally. But it was the will to descend into oneself. It was in reality authenticity and sincerity. But one has to really do it; it is not that easy. You forget that we are prisoners of conventional forms, academic poetry, and even the most beautiful of this poetry … it wasn't what we wanted. The Surrealist quest was something else; it was profoundly different. It was to descend to the deepest part of oneself. It was to liberate the repressed imaginary. We are in the lineage of psychoanalysis. Some automatic texts could even be psychoanalytic documents. That is what interested me. It interested me as a Martinican, Sorbonnard [graduate of the Sorbonne], Normalien [graduate L'École normale supérieure]. Just like that! What are we going to do? What will we find? Come on! Further! Even further! So what? Further, again further, but what I found in me when I was at the bottom. I found, laughingly actually, the nègre fondamental. This is it. I didn't want to be another French Surrealist, although my admiration was big. I wanted to be surrealist but to put it to the service of my own ego and my own cause.
Highlights of the symposium (for us!) include the Breakfast Film Program, which is screening The First World Festival of Negro Arts (1967). Directed by William Greaves, it's "the official documentary film of the 1966 festival held in Dakar, Senegal, which over 2,000 writers, artists, and performers from throughout the African Diaspora attended, including Duke Ellington, Langston Hughes, Alvin Ailey, Léopold Sédar Senghor, and Aimé Césaire, and other artists, performers, and dignitaries from 30 countries." There's also a screening of Maya Deren's Divine Horsemen: The Living Gods of Haiti, and a performance by "Black Dadaist" Adam Pendleton honoring Adrienne Kennedy. The keynote address, "Blues People and the Poetic Spirit: Recovering Surrealism's Revolutionary Politics," also sounds great.
A full schedule of events is available here.