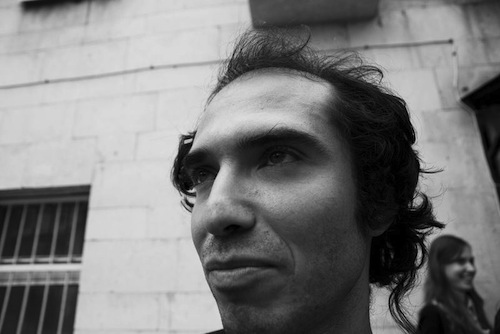 Jeff Parker has reviewed and contextualized Kirill Medvedev's It's No Good (Ugly Duckling Presse/n+1) for The Los Angeles Review of Books--we pointed you to excerpts from the book not too long ago. Medvedev's first book in English translation, this publication is also notable considering that the poet ceased to publish anything after 2003, choosing instead to immerse himself in activism. "'I am interested exclusively in the position of the artist undertaking a "battle for his art" — which in our own time will mean a battle for his position,'" Parker quotes. Medvedev went on:
I am convinced that my own texts are nothing more nor less than the contemporary poetic mainstream, and that if the mainstream, represented in my person, adopts such a half-underground and, as far as possible, independent position, then, maybe there will be more honest, uncompromising art in my country without ties to the disgustingly revanchist (or, on the other hand, pseudo-liberal) ideological encroachments of the current cultural, financial, and political authorities.
"Edited by Keith Gessen, [It's No Good] includes poems, essays, manifestos, calls to action, obituaries, and other writings from the time of Medvedev's emergence as the reluctant voice of his poetic generation through his reinvention as an activist force. The book constitutes a biography of sorts," writes Parker, and later that "[t]he problem for Medvedev is that, when it comes to life off the page, his poems offer no comfort, no help to these heroes, nor to himself." After discussing some of Medvedev's essays, including the important "My Facism," Parker connects the two forms [see original article for correct line breaks in the poem]:
Nowhere in Medvedev's work is that serious struggle more visible than in the last poem he wrote before breaking with the literary world (originally untitled, but called "Europe" in this volume), which concerns itself mostly with an epic bus trip he took from Moscow to Rome and back. It meditates, in turn, on aesthetic terror; the film Amélie; the vulgarity of a certain style of tourism; German soldiers fatally surprised by the early snow in 1941; altruism; Belarussian nationalism; a Leni Riefenstahl retrospective held in St. Petersburg, the city of the German blockade; and the ridiculous and surprisingly moving Soviet film that his fellow passengers (Russian athletes on the way to Milan) watch on the bus:

and just now we watched an old Soviet film
about World War II,
the action takes place around here somewhere —
I am ground, over, over, come in, this is ground, over, the
communications officer says,
she is a pretty young officer,
but no one answers, they're dead (they're gone),
they've been killed,
though not before communicating the movement of the Nazi
troops,
and their impending attack
from the northwest,
I cried over this "I am ground, over, over, come in, this is ground,"
I'd had a lot to drink on the road from Moscow to Minsk,
but I would have cried even if I hadn't had a single drop
between Moscow and Minsk

This visit to Rome was clearly a turning point for Medvedev. He recounts the same trip in "My Fascism":

Once, after performing in a poetry competition in Rome, I remember walking around that city, absolutely happy, a kind of successful poet on tour, half-Bukowski, half-Yevtushenko, a real VIP (and at the same time a child), sipping at a gigantic bottle of beer, which seemed to terrify the woman I was walking with, a young Swiss poet, and I remember thinking — or, no, at the time I couldn't think it, but I felt it — that nothing better than this would ever happen to me, not, anyway, in this sense, and so I should probably not do it again. That all this recognition, such as it was, and the fact that I'd dreamed of this recognition for so long, changed nothing. You can't change the world that way, you can't rise to the next level of existence that way — you can only end up getting something for yourself, feeling like a conqueror for a short time.

The dual revelation that "nothing better than this would ever happen to me" — that the lusts of his writerly ego would never be satisfied — and that "you can't change the world that way" — that poetry was inadequate as a vehicle for social change — transformed Medvedev deeply.
Read the piece in full here--especially if you'd like to know if Medvedev has returned to writing poems. . . .