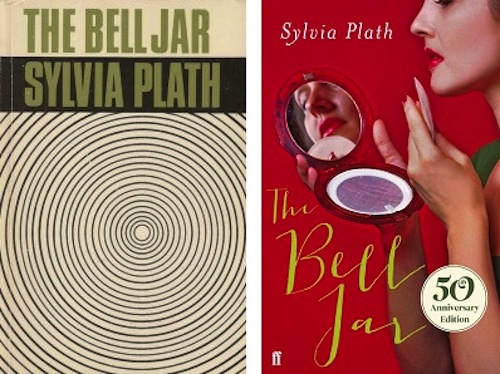 We recently covered all the covers for Sylvia Plath's The Bell Jar--and you must've seen the UK revamp for the 50th-anniversary edition (up top, to the right of Shirley Tucker's original design). Well, Faber's chick-lit face for the novel has inspired 1) much argument, with The Independent calling it "an insult to women everywhere," and 2) loads of parodies, say GalleyCat. They also note that "The London Review of Books wrote about the controversy":
The first edition of The Bell Jar to appear under Sylvia Plath's name was published by Faber in 1967, with a cover designed by Shirley Tucker. This month Faber have brought out a 50th anniversary edition of the novel (it was first published by Heinemann in 1963 under the pseudonym Victoria Lucas), with a cover about as far from Tucker's Bridget Rileyish concentric circles as you can get: a stock photo from the 1950s of a woman with a powder compact. As Dustin Kurtz, a marketing manager at Melville House, tweeted, "How is this cover anything but a 'f*** you' to women everywhere?"
View the collection of parody book covers here. We like this one:
And strangely enough, Faber recently put a lot of time into a post about Shirley Tucker's design process for their in-house blog, The Thought Fox.