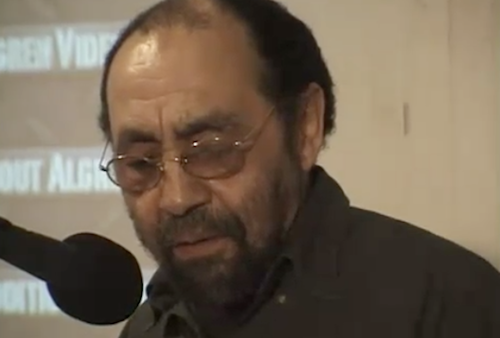 We received the sad news yesterday via the WBEZ blog that Chicago poet David Hernández died early yesterday morning of a heart attack. Achy Obejas writes a heartfelt tribute to Hernández:
There's a chance this blog might be a little sloppy. As I write, I'm a mess of tears. And these aren't soft poetic tears but real sobs.

My friend David Hernández had a heart attack at dawn today and died.

David Hernández — that David Hernández — the poet, the city's unofficial poet laureate, the playful dude in the fedora, the guy with the perennial smile. The famous poet.

The street dude who took this little Cuban kid who'd grown up in Indiana and introduced her to the beauty of the city more than 30 years ago, infected her with his own enduring love for the muse that hurt and thrilled Nelson Algren and Gwendolyn Brooks and David himself and, eventually, all of us too. I was one of thousands: the writers and poets and musicians and painters who twirled around David, our magical imp, our towering barrio bard.
Obejas goes on to note that many people will write about Hernández's poetry, but, she writes, "I want to say something else: I want to talk about David's heart, David's generosity, because that was his real gift."
It wasn't just that he taught and touched thousands upon thousands of students, that he helped so many poets get started in his classes or by inviting us to read with him, or that he'd talk us up at crucial moments.

I can't count the times people have said to me, David told me about you, David said I should read your stuff, David said you never call him but he still loves you.

(Thousands of other people, I suspect, have had the exact same experience.)

And this is the thing: David really did love us. Each of us feels that we had a special bond (because we all did!). He refused to forget us even when we forgot him. Refused to engage in our fights and jealousies. Refused to indulge our fears and prejudices. Encouraged us, without ever saying it this way, to be more like him. Accepting. Forgiving.
Head over to read the rest and to watch a video of Hernández reading his work. Chicago will miss him.