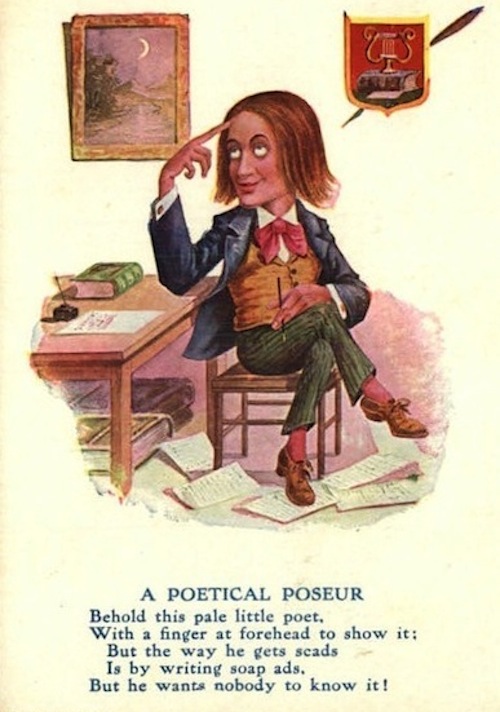 As we count down the seconds to Valentine's Day (poetry's biggest day of the year, mind you) we thought it might be nice to cut the saccharine with a little vinegar. Thankfully, Collectors Weekly posted this article that looks into the history of Vinegar Valentines. Never heard of them? Think of a friendly Victorian Internet troll and you'll get a close approximation. Here's what CW has to say:'
With all the hand-wringing over anonymous commenters and social-media trolls, you'd think the Internet is to blame for all the woes of humanity. After all, what could people do with their ugly, mean thoughts before they had Yelp, Reddit, or Tumblr to help broadcast them? But as far back as the 1840s until the 1940s, they could send them in a Vinegar Valentine. Yes, that's right. For almost as long as Valentine's Day has been an insufferably sappy day celebrating romantic love, it's also been a day for telling everyone else exactly how much you don't love them—with an anonymous poem sent via post. [Click to see slideshow]

At first, it's easy to demonize the senders as the worst sorts of trolls or bullies. I mean, some of the most horrifying Vinegar Valentines actually suggest the recepient kill him or herself. But then, if you look at the more light-hearted Valentines, some of them start to seem like a good idea. Have you ever had a haughty saleslady scoff at you for being poor? Have you ever had to listen to a pompous windbag carry on when he doesn't have any idea what he's talking about? So many people are blithely unaware of their obnoxious behavior. Wouldn't it feel great to tell them off, consequence-free?
T'would! Leap over and read an insightful interview with Annebella Pollen, an expert in the field, about the history of the Vinegar Valentine.
And if you're looking to get your love on next week, you can select the perfect poem from this sampler here. Or, if you're not feeling it, grab a poem from this one.