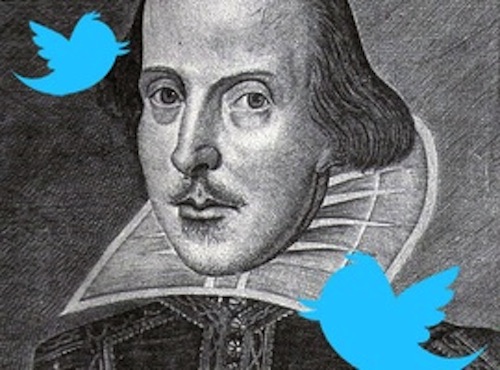 There are hundreds of millions of people who use Twitter, including us. Some writers use the platform for composition. Vanessa Place, for example, has been tweeting the entire text of Gone With The Wind 26 characters at a time.
And then there's a program called the Pentametron, which creates poetry couplets by randomly pairing tweets inadvertently written in iambic pentameter. Chris Wright at the Boston Globe has written a fantastic article on the project and its programmer, Ranjit Bhatnagar.
The couplets are often strange and compelling. Here's a sample of recent couplets that appealed to us this morning:
@new_altitude goodmorning.... follow me
I really wanna see a manatee! :(

I really didn't wanna witness that
And what about the bloodied cricket bat??

I have the biggest headache ever. Why
You walked away and never said goodbye.
As Wright notes in his article, while there is a novelty to these poems, their appeal goes beyond novelty:
The couplets produce bursts of meaning and emotion—yet you know it's an unthinking, unfeeling machine that has patched them together. It's a project that raises questions about what makes writing feel like a work of art in the first place. After all, any resonance between the Pentametron's lines comes not from some poet, but from you.
Wright goes on to connect the dynamic of meaning and randomness to both Surrealism and Flarf:
The early 20th-century Surrealists toyed with the collision of chaos and meaning in their Exquisite Corpse experiments, in which individuals contribute to a poem or drawing without knowing what came before. At the turn of this century, a group of poets called the Flarfists did something similar using Google, cobbling random searches together to create poems with titles like "Unicorn Believers Don't Declare Fatwas."

Gary Sullivan, who founded the Flarf movement, likens the Pentametron to "two instruments playing at different registers," which produce "overtones of meaning." He also sees Bhatnagar's work as being very much in the tradition of his own. "I think one of the things we discovered, and which every collagist knows, is that we can create bizarre meanings, or hyper-meanings, by using things that weren't meant to go together," he says. "In coming across things by accident, you can discover things you didn't know existed."
Check out the rest of this article at The Boston Globe.