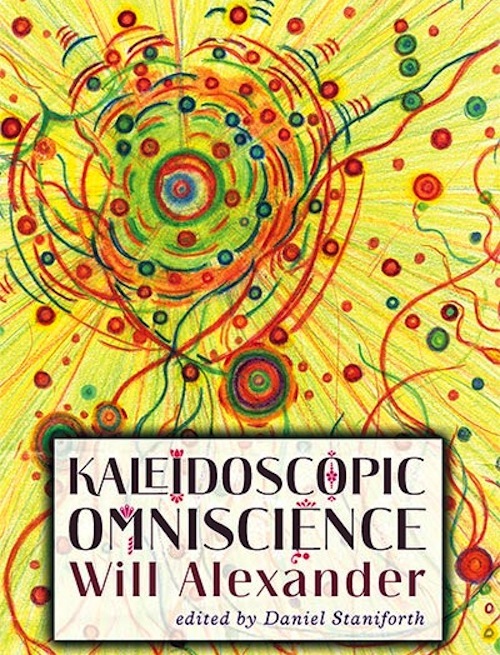 Over the weekend we were excited to see Skylight Press announce the release of a new anthology of poetry by Will Alexander. For those of you, dear readers, who have not yet plowed into the lexical landmines planted in Alexander's poems, head over here to read a few and get acquainted (we'll wait). Ok, Now that your mind is blown this morning, let's move on to see what this new book is all about:
Kaleidoscopic Omniscience is a new anthology of Alexander's works that advance the lingual contortionist and poetic sage at his effulgent best, offering new editions of earlier published works – Asia & Haiti and The Stratospheric Canticles – as well as the previously unpublished and long-awaited collection, Impulse & Nothingness. The pure scope and range of these three works presented in concert is an amazing poetic feat in and of itself, one where Alexander's prismatic and oracular voice cascades around various bi-geographic confrontations, painterly morphologies, and the roiling cosmology of the void. Eliot Weinburger marvels at the poetic terrain traversed in these works: "No subject seems alien to him: Who else would write a poem on the death of Enver Hoxha? Who else would attempt to inhabit the brain of an animal in ecological catastrophe? Who else could spin a book-length poem from the verb 'to paint'? – a poem that not only ranges through the history of world art, but which is an extended meditation on the way seeing is transformed by the chemical compounds of paint into vision." (from Sulfur). The simple answer to Weinburger's question is – currently, no one! The poet also gives us a glimpse into the machinations of his roving mind in an eye-opening introduction to the book: "The three books of poems form an organic constellation. Their range extends from the flora and fauna of Tibet, to new world politics and culture in Haiti, doubling back to Italy and ideology under Hoxha in Albania, combined with my interest in the mystery of the cosmos. Intertwined with these locales there is engagement with areas such as ecology, and world painting, as well as with the psychosis of dictatorship…"
The article goes on to quote Alexander from his introduction to the anthology:
As poet I've been blessed with the instinct for hearing. I've always been filled with herds of sound from the moment I gained my first aural realization. Summed in five words: the electrical instinct for language. This instinct has provided me with self-possessive industry, allowing me to continuously rise into an elevated aural field. And by industry I mean continuous tilling of the mind, so that over time verbal crops are unleashed. To paraphrase Rimbaud, I is another. Respiration on this plane takes place by means of alchemic treason. Assumption by means of the old mechanical methods need be mentally abducted and slain. Without such action mechanical method becomes a carking fuel which entangles the alchemic. Thus, the ear becomes foiled through effort at quotidian confirmation. The latter leading to safety through domestic adjustment. Aversion then condenses as barrier against uncertainty. Thus, failure ensues as regards to inscribing an alien encryption with one's thinking…
There's more to read at the Skylight Press blog. And to get your own copy of the book, go here.