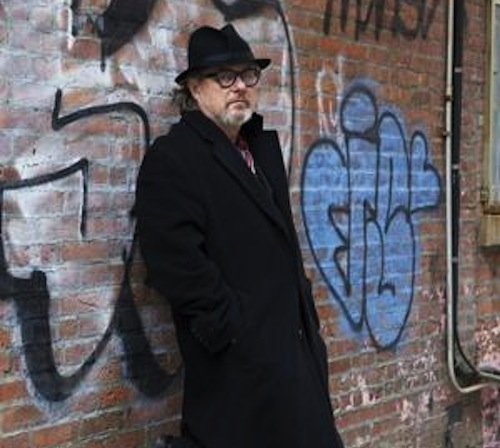 Bob Holman gives readers a tour of his "poetic New York," starting with The Poetry Project and ending up at Strivers' Row between 138th and 139th Streets, for the New York Post. A start:
1. The Poetry Project, 131 E. 10th St.

It's been in existence since 1966, and is completely artist-run. Patti Smith was a performer there; Allen Ginsberg (right) was a performer there. The original government grant ran out after two years, but poet Anne Waldman kept it going. I remember Ginsberg raising his hand at a community meeting in about 1979 when we were talking about whether the Project should become a nonprofit. He was saying he would vote for it if there would be more parties after the readings.

2. The Hare Krishna Tree, Tompkins Square Park

It's where Ginsberg sat and chanted the Hare Krishna poem in 1966 [said to mark the founding of the religion in the US] and where the annual Howl Festival [May 31 to June 2] now sets up. Every year on the last Friday in May, around Allen's birthday, there is a group reading of Allen's masterpiece, "Howl." It's great to see the beat poets' traditions continuing.

3. Nuyorican Poets Cafe, 236 E. Third St.

It was closed in the '80s due to AIDS, crack and gentrification. I was helping reopen it when I saw this article about slam poetry in Chicago, and it grabbed me: A poetry "slam" sounds more exciting. You didn't know who the poet was going to be, you only knew they were going to read one poem, with judges picked from the audience. I wanted to do them on Friday nights at 10 o'clock, which was unheard of — poetry readings happen on Wednesday. And so it became the birthplace of the poetry slam in New York City. We had the 1996 Grand Slam Finale that Saul Williams won, that also featured Beau Sia and muMs da Schemer [who was in the HBO series "Oz"]. It became the basis for the movie "Slam."
Holman also writes movingly of a tribute to his late wife, painter Elizabeth Murray, at The Bowery Poetry Club. Read it all here.