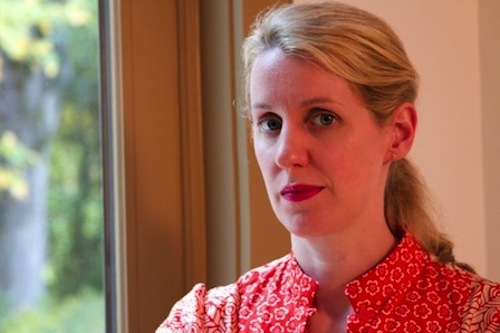 Camille Guthrie's most recent book, Articulated Lair: Poems for Louise Bourgeois, was recently featured in the Rumpus Poetry Book Club. When describing why she chose Guthrie's book, book club board member Camille Dungy writes that she enjoys Guthrie's work as much for what it leaves out as what it includes.
One of the things I admire most about Articulated Lair is that Guthrie does not require her poems to tell us all there is to know about Bourgeois or her oeuvre. She does not ask language to say everything. In fact, Guthrie seems to revel in gaps and silences, the nuances occasioned by what cannot or will not be directly articulated. Guthrie creates poetry within these gaps. She builds her poems around them. She emboldens my ear as it "imagines/ the tenor of the unsaid" (Cell IV), and she guides me as I begin to perceive Bourgeois in a new light.
To delve more into Articulated Lair: Poems for Louise Bourgeois, we recommend reading the edited transcript of the online discussion between Poetry Book Club Members and Guthrie. It's an extensive conversation, but we enjoyed learning more about Guthrie's interest in Bourgeois and seeing what aspects of the book sparked readers' interest. The following exchange about the biographical nature of Bourgeois work and how Guthrie approached biographical information in the poems is illuminating:
Camille Guthrie: LB's work is indeed very biographical, very much about deeply personal emotions and memories. I'm not a confessional poet at all; in fact, it's always quite a surprise to me if private things emerge in a poem! But I did have a powerful reaction to her work and was drawn to some pieces in particular more than others. I noticed recently that in my book I write a lot about the artworks about mothers and sisters, when many of LB's works are about her father. A real patriarch.

Brian S: It did seem to me that the fact that LB's sculpture was so family-driven that the poems couldn't help but reflect that in a way. When I returned to the book a second time, I did so with Google image search on (while others around me were sketching a model) and the poems opened up in a different way for me. Reading it both ways was enlightening.

Camille Guthrie: Yes, and I did include some biographical information in the poems themselves: her sister was Henriette and had a stiff leg; she was born on Christmas Day by a river. But I didn't want to be a biographer in the poems, I wanted the poems to be an enactment of what I experienced when I looked at her work, and how I interpreted what she said and wrote about her art.
You'll find the rest of the transcript at the Rumpus.