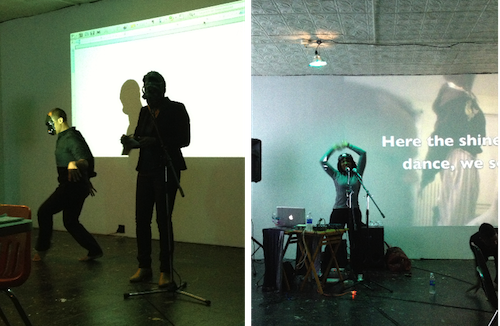 We're fan's of Jennifer Karmin's multidisciplinary projects and the long-running Red Rover Series in Chicago. Over at Poets and Writers, Karmin and co-curator Laura Goldstein talk about their collaborative curatorial process and recent performances by the Black Took Collective. From the beginning, organizing events at Red Rover has been an organic, open process. Karmin notes that:
Red Rover has tried to create an environment where anything can happen and often does. Our audience never exactly knows what they're walking into. We're interested in an interdisciplinary approach to events. This often includes nonliterary genres, audience participation, exploring a theme, and playing with seating in the space.

We see the curator as a facilitator of group experience for the writers, artists, and audience members. This is one way we're trying to challenge the usual hierarchies that often play out in the literary and art world. Our main mode of operation is collaboration.
In February, the Red Rover Series hosted the Black Took Collective in Chicago as part of the IN>TIME Festival. We've been mesmerized each time we've seen the Collective, and regularly follow the work of Duriel E. Harris, Dawn Lundy Martin, and Ronaldo V. Wilson. If you've never seen them perform, Red Rover audience member's reflections of their visit will be especially illuminating. Here's what J'Sun Howard, a  writer and dance artist, had to say:
Two Macbooks with blank documents open for the audience to read periodic automatic writing from the collective, as the piece went along, spread across opposite walls from each other. The third wall facing the audience housed another projection that was a small phantasmagoric video of smiling faces behind a clear makeup-ed mask, Wilson dancing while Lundy read, and more text in bold white letters contrasted eerily with the sleekness, absoluteness, and unfussiness of the other automatic writing projections. In the center of the floor, a table held all the equipment and was flooded with microphones, water bottles, more text, poetry books, props of a gun, and a black mask.