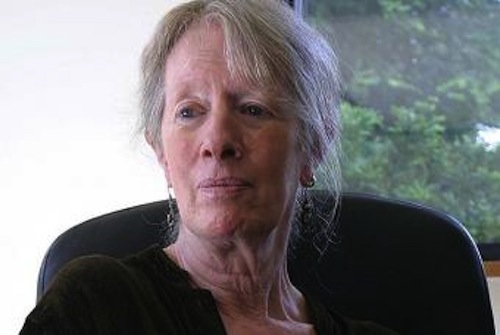 Over at the Chicago Tribune, Michael Robbins reviews Lyn Hejinian's My Life and My Life in the Nineties, recently reprinted together by Welseyan University Press, as we mentioned the other day. After "being a bit unfair" to Pete Inman and repeatedly referring to Language Poetry as boring, though producing "some terrific poets—Ted Greenwald, Rae Armantrout, Susan Howe, Michael Palmer, among others," Robbins talks about Hejinian:
Lyn Hejinian delivers, in spurts and fits. Her sort-of-autobiographical prose-poem "My Life" is widely regarded as Language writing's masterpiece. It first appeared in 1980 as a series of 37 prose paragraphs of 37 sentences each (Hejinian was 37 when she wrote it); a revision in 1987 contained 45 sections of 45 sentences each; "My Life in the Nineties" was published as a separate work in 2003. Wesleyan has reissued the entire caboodle under the title "My Life and My Life in the Nineties."

Now that the young Turks are éminences grises, perhaps it is possible to read Language writing as a nonpartisan. "My Life" is never going to be one of my favorite books, but it should be read by anyone interested in American poetry. Hejinian is attracted to "the entomology of things on the page": writing as a paradoxically polished automatism, a re-evaluation of the floaters in the corners of consciousness. What this sounds like, on every page, is:

Hold back, as less from friends; hold the book, hold up, then hold on tight, hang on. Time is an electronic river. Strawberries forty-nine. A man on the street swings his arm out to get a look at his watch, stretching to get his wrist out of the suit jacket, two on the watch. When challenged to explain myself in other words I look down, my visual focus deflected to the right — my mind settling into a comfortable position, so it can work. A translator must try to keep all the most interesting words. Is it a pattern that we see or only a random placement of the stupid little tiles. Or a place by water in early spring. This stop and start is bumper to bumper.

One purpose of this writing is to illustrate the foreign nature of language ("Language speaks," as Heidegger puts it; "It talks," Hejinian says), as it were by modeling it — there are no contextual markers to place us, to let us know who is speaking or why or to whom, about what. Phrases rise up, recognizable from other situations, perhaps, but left unsituated here. The nearest literary analogues are probably Woolf's "The Waves," Beckett's "How It Is" and Ashbery's "Three Poems" (these are not as monotonous as "My Life," but of course they risk monotony). This poetry is not amenable to translation into the usual sense-making procedures. At the theoretical level, it is intended to call those usual procedures into question. It invites the reader to participate in the construction of meaning.
Read the full review here. Robbins also recently wrote about books he hasn't read yet. "The 'books I haven't read' lament is, in fact, in part, a form of bragging about the books you have read. But it's also a memento mori. Instead of a skull on my desk, I keep a pile of unread books."