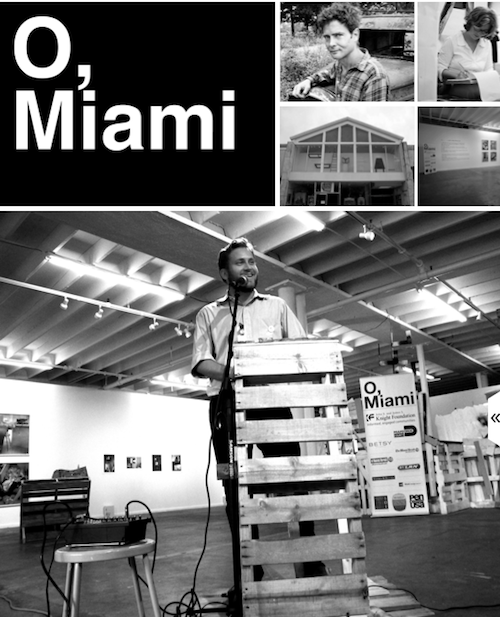 We don't know if you feel it yet, but Harriet Staff certainly feels National Poetry Month heating up. While we've been getting our ducks in a row to host the awesome bevy of poets on Harriet, other arts organizations across the country have been putting together amazing poetry festivals in April. Case in point, The O, Miami Poetry Festival, which attempts to deliver a poem to all 2.6 million+ residents of Miami-Dade County during the month of April. And the organizers are not just handing out leaflets.
In 2011, we flew poems behind airplanes, dropped them out of helicopters, sewed them into clothing, and attached them to every single bus in Miami-Dade County. We produced events with actors (James Franco); choreographers (Jonah Bokaer, Rashaun Mitchell); artists (Anne Carson, Sam Winston); and, yes, poets (W.S. Merwin, Tracy K. Smith, Raúl Zurita). The festival was covered nationally and internationally by The New Yorker, NPR's Morning Edition, Dwell magazine, Best American Poetry, and the Associated Press, and chronicled in a recent Knight Foundation report.
Wow. So here's what's happening this year:
A special celebration with Thurston Moore, lead singer of Sonic Youth; Richard Blanco, the Miami-raised poet who read at the 2013 Presidential Inauguration; and Megan Amram, a poet, comedian, and writer for the NBC show Parks & Recreation

A final weekend, hosted by The Betsy Hotel-South Beach, that will feature readings and performances from the most diverse group of poets we've ever assembled, including Kevin Young, Chase Twitchell, Jean Portante, Jose Angel Leyva, Eduardo C. Corral, and Frank Báez

A book called "That's So Miami!" published by the people of South Florida. We're putting a call out for poems that begin or end with the phrase #ThatsSoMiami and we'll play them on WLRN 91.3 FM, post them online and select the best ones to go into the book.

"Poetry is Dead": the first-ever poetry parade on South Beach featuring performances by well known dead poets

A special "local poem" display on 100 lampposts banners throughout Miami-Dade County

Poems written by South Floridians flown behind airplanes

Brand-new "poetry films" commissioned from and created by the geniuses behind the Borscht Film Festival

A Tattoo + Poetry Night featuring legendary tattoo artist Duke Riley: http://eastrivertattoo.com/artists/

A new dance + poetry piece by Merce Cunningham alumni Rashuan Mitchell and Silas Reiner commissioned and
created for O, Miami

An opening ceremony with Miami legend Trick Daddy

PLUS: The first-ever Miami Literary Trivia Night; An open mic reading series for locals * A "poetry soapbox": everyday at 5 p.m., a poet will read on the front steps of The Betsy Hotel; A poetry-themed flash mob; and additional events tba
All these staggeringly awesome events are supported by the Knight Foundation. If you're aiming to take a spring break, we'd suggest going to Miami for the warm weather (but staying for the poetry).