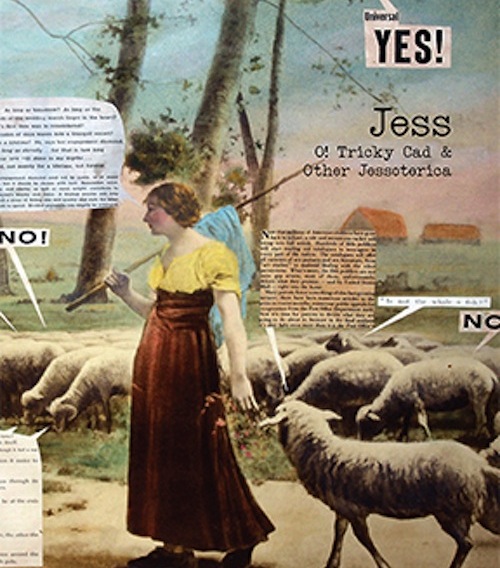 In "Poems and Poetics," a regular column Jacket2, Jerome Rothenberg highlights a recent title from Siglo Press featuring collages by Jess, Robert Duncan's long-term partner. If you're not immediately excited by this announcement, Jess's biography on the Siglio Press website will pique your interest:
JESS (1923-2004), born Burgess Collins in Long Beach, California, abandoned his training as a scientist and his surname in 1949 and enrolled in the California School of Fine Arts. He soon met poet Robert Duncan and the couple embarked on a domestic relationship of shared aesthetic concerns, becoming key generators of the fertile Bay Area art scenes of the 50s, 60s, and 70s. Jess's self-reflexive style of image-making was most powerfully conveyed in the Translations (1959-76), a group of thirty-two paintings based on found images, originally exhibited in his first solo show in New York in 1971 at the Odyssia Gallery and remounted later at the Museum of Modern Art. A major retrospective was organized by the Albright-Knox Art Gallery in Buffalo in 1993 and traveled to the Museum of Fine Arts Boston, the San Francisco Museum of Art, the Walker Art Center, and the Whitney Museum of American Art.  His work resides in numerous private and public collections including those of the Philadelphia Museum of Art, the Hirshhorn Museum and Sculpture Garden, the Art Institute of Chicago, and the Metropolitan Museum of Art.
The book,  Jess: O! Tricky Cad & Other Jessoterica,was edited by Michael Duncan and includes a collage that was once in the possession of Jerome and Diane Rothenberg. Jerome Rothenberg's story about how the collage came into their possession as well as their relationship with Jess and Robert Duncan is fascinating:
I knew by then that Robert was deeply if literarily attracted to magic, and so the night in Stinson Beach was, for Diane and me at least, a night of magic. Jess was also bearded at the time, and while Robert resembled a young Walt Whitman, Jess I thought was like a young D.H. Lawrence. The meal prepared by Jess and decorated with orange nasturtium flowers was new to us, and the evening was illuminated further by a net of phosphorescent plankton off the nearby coast and a shower of meteors in the distant night sky. I was struck as well by the degree of overlap I felt with both of them, and the exchange that began then was, I hope, fruitful for all of us, as it certainly was for me. After Robert came to visit us for several weeks later that year, Jess sent us the two-sided collage, which stayed with us until 2012, though it was only late into that stay that we became aware again of the side displaying the shepherdess in full and magical color.
We recommend reading the entire post!