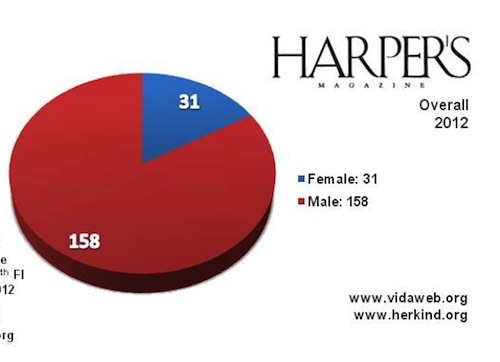 Amy King has posted the VIDA Count for 2012, and "eyeball[s] how the 2012 Count stacks up beside numbers from the years preceding." As per usual, VIDA aims to "turn the conversation into reader practice," rather than lambast publications; though those who have visibly worked to change their numbers are duly noted (Tin House), and vice-versa (Harpers [a decline!], The Paris Review, The New Republic, New York Review Of Books, etc.). King writes of these publications' "gross (& indecent) neglect of female writers' work": "I fear the attention we've already given them has either motivated their editors to disdain the mirrors we've held up to further neglect or encouraged them to actively turn those mirrors into funhouse parodies at costs to women writers as yet untallied." Also worth mentioning is that Roxane Gay expanded the scope of the count last year by including women writers of color. "Pouring [sic] over the minutiae of journal and magazine contents is no longer a process for VIDA alone; counting has become a call to awareness, a movement for any and every publisher to voluntarily join," writes King.
View the full count here. Comparison charts are here.
And for a good interview with King and Tin House editor Rob Spillman about TH's productive attempts to address "the numbers," go here.