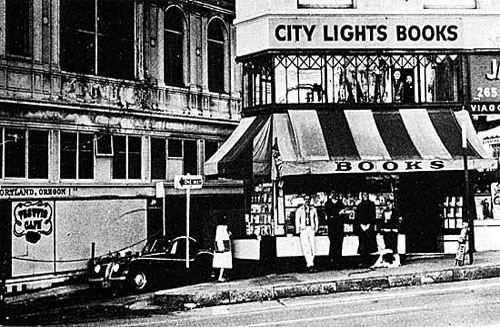 A couple of days ago, we posted this great interview with Marie Ponsot, the recent winner of the 2013 Ruth Lilly Prize, as you all know by now! The City Lights blog has another interview with Ponsot, who "has the distinction of writing the rarest City Lights publication," True Minds. Megan O'Grady writes: "True Minds was number five in the Pocket Poets series, published in between Ginsberg's Howl and Denise Levertov's Here and Now. Only 500 were printed, and it is now very difficult to find." O'Grady did investigate the work further, and fell in love with it, leading her to interview Ponsot. A bit from that:
Megan O'Grady: Your first book of poetry, True Minds, was published by City Lights Books in 1957, in the same series as Allen Ginsberg's Howl. You were already a mother then. I can't imagine that balancing the two was very easy.

Marie Ponsot: What a fate! I had just had my sixth child, so I had a houseful. Larry [Lawrence Ferlinghetti] had done this wonderful thing and put together a chapbook. He and I had known each other in Paris, and we used to exchange poems and talk about them, and he had held on to them and wrote to say that he wanted to do a book. He asked me to send anything else I had, and I did, any scraps that were lying around. You can read them now and see they're much less rewritten than anything I've done since. I was writing in between everything else. I think I didn't write much less in those years than I did before I started having children; I just wasn't free to do it for as long as I might have liked once I got started. But the impulse to do it was constant, and I always found it an energizing thing to do. If you make something, you feel better about yourself and the world. I did learn one great, crucial thing, though, that I think every writer should be taught: that you can always find ten minutes in the day to write."

Her next book, Admit Impediment, was not published until 1981.

"Nobody spoke to me about it and it certainly didn't occur to me. You really have to believe me when I say my dissociation from the idea of publication was not deliberate, contemptuous or passive-aggressive; it just didn't occur to me. Think of all those seventeenth-century cavalier poets who had no interest in publishing their work-it didn't occur to them either. Frequent publication of poems is a nineteenth-century development."

"Writing poems is a luxury, a triumph! While doing it one is exultant and grateful and cheerful and pleased. You don't wait for someone to approve. If you go on doing it and enjoying it, well, what have you done? You have spent time enjoying what your language makes of you. Very often this makes for a more comfortable self than any other you'll ever meet."
O'Grady also posts a poem by Ponsot, "A Visit," with a great epigraph from Djuna Barnes. Read it all here.