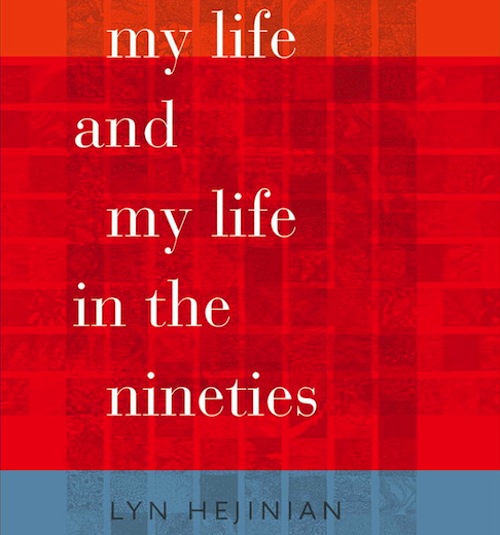 Our trusty Green Integer copy of Lyn Hejinian's My Life will always be held dear, but get ready for something new--Wesleyan University Press has just published the seminal book in a new edition! It includes My Life in the Nineties, too! More from their site:
New edition of one of the founding works of Language writing

Lyn Hejinian is among the most prominent of contemporary American poets. Her poem My Life has garnered accolades and fans inside and outside academia. First published in 1980, and revised in 1987 and 2002, My Life is now firmly established in the postmodern canon. This Wesleyan edition includes the 45-part prose poem sequence along with a closely related ten-part work titled My Life in the Nineties. An experimental intervention into the autobiographical genre, My Life explores the many ways in which language—the things people say and the ways they say them—shapes not only their identity, but also the very world around them.
And an excerpt:
It was awhile before I understood what had come between the stars, to form the constellations. They were at a restaurant near Los Gatos owned by Danes. Now that I was "old enough to make my own decisions," I dressed like everyone else. People must flatter their own eyes with their pathetic lives. The things I was saying followed logically the things that I had said before, yet they bore no relation to what I was thinking and feeling. There was once a crooked man, who rode a crooked mile — thereafter he wrote in a crooked style characteristic of 19th century prose, a prose of science with cumulative sentences. The ideal was of American property and she had received it from a farmer. It includes buying thrillers and gunmen's coats. I was more terrified of the FBI agents than of the unspecified man who had kidnapped, murdered, and buried Stephanie, the girl in the other fifth grade, in the hillside behind school. A pause, a rose, something on paper. It was at about this time that my father provided me with every right phrase about the beauty and wonder of books...

from "I wrote my name in every one of his books"