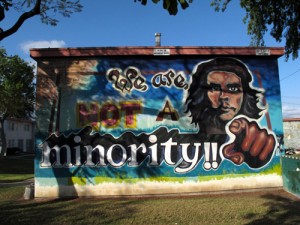 Say can you see by the dawn's early light
Free slaves running
Song's words weren't right
Now a new day's coming
The few stay stunning while the many are handsome
Your soul is alive but they want it for ransom
The base drumming is the anthem
—Flobots
Camille Guthrie: "Watch out for sentimentality. Predatory personification, too. And men with guns."
Calls to patriotism are nothing if not sentimental, predatory, and militarized. (Personification might be a stretch, though dehumanization—that crucial aspect of institutionalized injustice and acceptance of "collateral damage"—might be some not-so-fun funhouse mirror of personification?) Guatemalan poet and filmmaker Julio Serrano's poem "Por favor respete su turno" suggests that the purpose of the national anthem is to put us in our place, to remind us of the designated order and demand with faux politesse that we "Please Wait Your Turn," as much as it is to instill national pride. Or perhaps national pride is precisely an anthemic getting in line, an ardent lesson in whom to obey, when, and where, by what means and with which weapons.
Por favor respete su turno
a vencer o a morir llamará.
antes muerto que esclavo será.
Ave indiana que vive en tu escudo,
bajo el ala de grana y de oro
colocarte en un trono de amor,
de dos mares al ruido sonoro,
De tus viejas y duras cadenas
dieron vida al ideal redentor.
el arado que el suelo fecunda
en que prende una nube su albura,
encendidos en patrio ardimiento,
Es tu enseña pedazo de cielo
Guatemala feliz que tus aras
Guatemala, tu nombre inmortal!
libre al viento tu hermosa bandera
lo amenaza invasión extranjera,
más que el cóndor y el águila real!
ni haya esclavos que laman el yugo
ni tiranos que escupan tu faz.
no profane jamás el verdugo;
Nuestros padres lucharon un día
nunca esquivan la ruda pelea
ojalá que remonte su vuelo,
paladión que protege tu suelo;
Pues tus hijos valientes y altivos,
que de patria en enérgico acento
que es tan sólo el honor su alma idea
que tu pueblo con ánima fiera
que veneran la paz cual presea,
Recostada en el ande soberbio,
si defienden su tierra y su hogar,
Si mañana tu suelo sagrado
sus colores pretenda manchar.
te adormeces del bello Quetzal.
tú forjaste con mano iracunda,
y ¡ay! de aquel que con ciega locura
y el altar de la patria su altar.
y en sus alas levante hasta el cielo,
y la espada que salva el honor.
y lograron sin choque sangriento
What is "translation," in relation to a text that itself is so overtly a translation, a reconstructed reading of an original? What are we reading here, and hence what do we translate? Andrew Joron: "poetry is a form of language in which meaning, and even meaningless, has nomadic valence—something that can't be possessed or definitively located, and whose existence…is always elsewhere." Where are the nomadic moments—the nodes of potential—in a text that persistently and totemically demands: here, here, here? Once that text (non-nomadic in the extreme) has been subjected to a nomadic valence that shifts it elsewhere, what is available for us to read, and to reproduce, is precisely that valence, that shift. How then to re-enact Julio's translation of the Guatemalan national anthem, how to untranslate its form (or translate its undone form) while neither privileging nor ignoring its content?
There is no definitive text in translation. All translations are versions, temporary holding patterns, potential multiplicities in suspended—yet extremely animate—animation. Often the knowledge of this multiplicity is harmonic, hovering above and around the translation untapped, untrapped, available for future thinking, future vision, future revision. Some texts, however, require multiple versions to begin to illuminate the function, form, and content of the original (as if those three are separate?). And so I made three poems.
I found an extant English-language version of the Guatemalan anthem and demanded that its lines—as Julio had done with the Spanish-language version—please wait their turn, to conform to arbitrary alphabetical marching orders.
Please Wait Your Turn
(Alphabetized Wikipedia English Version; translation unattributed)
And in its wings, may it raise up to the sky
And our Nation, in energetic assent,
And the honor-saving sword.
And they managed, without bloody clash,
And woe onto him who dares in blind madness
as well as the altar of the mother country, their altar.
By foreign invasion is threatened
die before being enslaved.
For your sons, brave and zealous,
Free into the wind, your beautiful flag
From which a cloud gets its whiteness
From your old and hard chains
Gave life to the redeeming ideal.
Glad (Joyous) Guatemala! may your altar
Guatemala, your name, immortal!
If tomorrow your sacred soil
Lit up in patriotic burning
Lying upon the proud Ande,
May it fly high
more than the condor and the royal eagle!
of the two oceans, hearing its noise,
Our fathers fought one day,
Native bird that lives in your seal
Never be trampled by the tormentor
Nor may slaves lick the yoke
Nor may tyrants spit upon your face
The plow that fertilizes the soil
the protector of your soil
They will never avoid the rough battle
to defend their land and their home.
To place you on a throne of love.
To victory or death it shall call
under the gold and crimson red wing of the beautiful quetzal
who adore peace as a great treasure
will never avoid the rough battle
You forged, with an ire-driven hand,
you will become entranced.
your colors to stain!
Your emblem is a piece of the sky
Your people will, with fiery soul,
I located the lyrics to "The Star-Spangled Banner" and, in turn, asked them to wait their turn.
Please Wait Your Turn
A home and a country should leave us no more!
And the rocket's red glare, the bombs bursting in air,
And the star-spangled banner in triumph doth wave
And the star-spangled banner in triumph shall wave
And this be our motto: "In God is our trust."
And where is that band who so vauntingly swore
As it fitfully blows, half conceals, half discloses?
Between their loved home and the war's desolation!
Blest with victory and peace, may the heav'n rescued land
From the terror of flight, or the gloom of the grave:
Gave proof through the night that our flag was still there.
In full glory reflected now shines in the stream:
No refuge could save the hireling and slave
Now it catches the gleam of the morning's first beam,
O'er the land of the free and the home of the brave?
O'er the ramparts we watched were so gallantly streaming?
Oh, say can you see by the dawn's early light
Oh, say does that star-spangled banner yet wave
Oh! thus be it ever, when freemen shall stand
On the shore, dimly seen through the mists of the deep,
Praise the Power that hath made and preserved us a nation.
That the havoc of war and the battle's confusion,
Their blood has washed out their foul footsteps' pollution.
Then conquer we must, when our cause it is just,
'Tis the star-spangled banner! Oh long may it wave
What is that which the breeze, o'er the towering steep,
What so proudly we hailed at the twilight's last gleaming?
Where the foe's haughty host in dread silence reposes,
Whose broad stripes and bright stars thru the perilous fight,
Finally, I took Julio's poem literally (if you want to call it that) and translated it as if I were unaware of its formal and conceptual structure—to see what that version of the poem might say, and how that might illuminate the other versions, and the anthem itself, and, ultimately, the idea of an anthem, of patriotism and nationalism, particularly in the case of a country where upwards of 250,000 people were killed or disappeared in a 36-year government-sponsored genocidal dirty war routinely mislabeled as a civil war.
Please Wait Your Turn
to conquer or to die will call.
will prefer death to slavery.
Indian bird living on your shield,
beneath a wing of crimson and of gold
to settle you on a throne of love,
of two seas toward resounding noise,
Of your ancient and unyielding chains
they gave life to the ideal redeemer.
the plow that fertilizes the soil
on which a cloud fastens its whiteness,
ablaze with burning national pride,
A piece of sky is your insignia
Guatemala joyous that your altars
Guatemala, your immortal name!
free in the wind your beautiful flag
threatened by foreign invasion,
more than the condor and the royal eagle!
Nor slaves gagging at the yoke
nor tyrants spitting on your countenance.
not ever to defile the executioner;
Our forefathers battled one day
they never avoided a tough fight
in hopes that it should take flight again,
safeguard that protects your soil;
For your brave and haughty children,
which of homeland in energetic accents
which is merely the honor its soul imagines
which your people with fierce soul
which they worship as a treasure, peace
leaning angled against the splendid Andes
if they defend their land and their home,
If tomorrow your sacred soil
its colors seek to stain.
The beauty of the Quetzal lulls you to sleep.
you forged with a rageful hand,
and oh! pity the person with blind madness
and the altar of the homeland his altar.
and on its wings rise up to the sky,
and the sword that protects honor.
and they succeeded without bloody conflict
We fail to see as much as we see. Translation is this sight, this failure. The space between error, narration, and navigation: in translation's failure is the information it provides. The necessity. The frame. The history built into the wall, or painted on it, or faded from it, or tagged on top of it, or shadowed through it.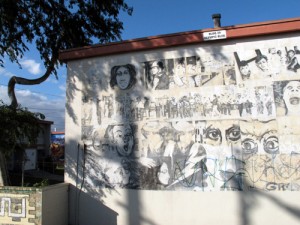 A poet, translator, book-maker, activist interpreter, educator, and urban cyclist, Jen Hofer was born in San Francisco and currently lives and works in the Cypress Park neighborhood of Los Angeles. Hofer's translation of Mexican poet Myriam Moscona's Negro Marfil/Ivory Black (2011) received the 2012 Harold Morton Landon Translation Award from the Academy...