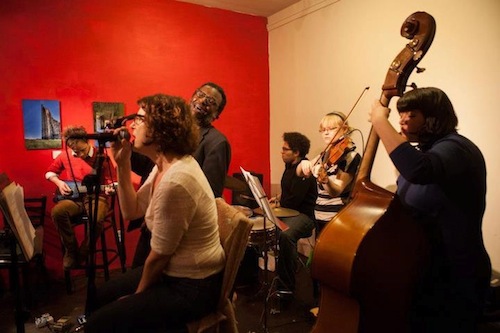 In January, I released two audio chapbooks; Asking for the Moon (Red Glass Books) and Book of Hooks (Kattywompus Press). Both books have CD's with songs; Book of Hooks is a double CD. There's around 36 songs between the three disks, with songs that go back as far the early '80's. Thanks to the tech moment we are all living in, most of the new songs on the discs were recorded outside of a studio; in my apartment in the West Village in New York; my house in Columbia, MO where I teach at the University of Missouri; hotel rooms in Rochester, NY, Brasilia and Sao Paulo; and airports and planes at 30,000ft. For Nat'l Poetry Month, I've been giving performances of songs from the books, with some of the NYC area musicians I used for the project. Sometime after our second live gig we started to develop a bit of a group-think, and we are now working as a band called Rough Magic.
Rough Magic is what I call a "literary band," by which I probably mean the songs (mainly mine at the moment) if not poems, are pretty word drunk; Robin Messing, the other vocalist in the group, is a novelist, essayist and short story writer who started her literary life as a poet, and her daughter, the bass player and musical director of the band, Emma Alabaster, is also a poet and has no problem skirting the line between poem, lyrics and music in her own band Captain for Dark Mornings. Through Emma, who Robin suggested for a track when Bernie Heveron (my old friend and producer) wasn't available to play bass, came the violinist Concetta Abbate, the guitarist Charlie Rauh, and drummer and arranger Leo Ferguson.
One day we were all in a small studio in Brooklyn working on a track, and the afternoon was so much fun that when I was invited to give a reading at a downtown church, opening for Oliver Lake, I turned the organizer down at first over the fee, then thought about it and called back, saying I'd be happy to do it, provided "my band" could join me for a few songs after I read. You might note that at that moment there was no "band"; luckily, they liked the idea, and the date was open.
The gig was more fun. Oliver Lake read his own poems; believe me, he had no need for a band, just his voice and his sax. By the time of the second gig in February, as part of Gerry LaFemina and Lynn McGee's Lunar Walk Reading Series at the Two Moon Café in Brooklyn, we knew we'd have to have a name for the project.
I am a fan of word drunk music; music with a great melody or beat and something under the hood lyric-wise. I'm aware that many consider these sort of songs the place where back-beats go off to die, but I would ask you to consider for every Van Dyke Parks, whose Song Cycle I first heard and loved as a teenager over headphones in the AV department of my hometown public library (those of you who know that record—think about those ears for a second), there's also a Chuck Berry, a Woody Guthrie, a Joni Mitchell, or Laura Nyro. For me, a song without a interesting lyric is a bit like a good story line in a graphic novel with crappy drawing—you can't escape feeling just a bit rooked since you can't fully see the world being described.
I also like the information and mystery of the blues; it'd be impossible for me, growing up where I did with the talkative, black family I was a part of, not to have an ear tuned to the way the blues told the news of my neighborhood. Don't you mind/people grinning/in your face . That's a song written by the great Delta Blues singer and guitarist Son House, who happened to be living a few blocks away from us in my hometown of Rochester, NY, and I got to meet when a friend found out and threw a birthday party for him.
A lot of people love the blues for the sex and the accusations, and they're not wrong, but I also trained an ear to what might be called the domestic; just the basic, day to day dirt of living:
You know your mama'll talk about you,

Your sister and your brother, too.

Don't care how you trying to live,

They'll talk about you still.

—Son House "Grinning In Your Face"

You can't spend what you ain't got,

You can't lose what you ain't never had.

—Muddy Waters, "You Can't Lose What You Ain't Never Had"
Growing up in my black neighborhood in the 60's and 70's surrounded by the accents and ironies these songs sprung from, the blues wasn't about suffering; it was about, as mother always liked to say, "makin' do." The lyrics were music on my ears, and they didn't blink. And they were written by people who looked like my parents.
The Book of Hooks project isn't a blues song book, but it is certainly informed and haunted by those metaphors, the difference being of course, the stuff that floated through the AM radio in those days also floated between my ears as well. And I saw the same sort of reporting in the first poetry books I read. A different way of singing, to be sure, but still a way to story-tell with the short form. It's what I hope Book of Hooks is up to, and is the unexplored country Rough Magic is headed for.
"Stone Cold Jane" from Book of Hooks
Poet and cofounder of Cave Canem, Cornelius Eady has published more than half a dozen volumes of poetry, among them Victims of the Latest Dance Craze (1985), winner of the Lamont Poetry Prize from the Academy of American Poets; The Gathering of My Name (1991), nominated for a Pulitzer Prize;...