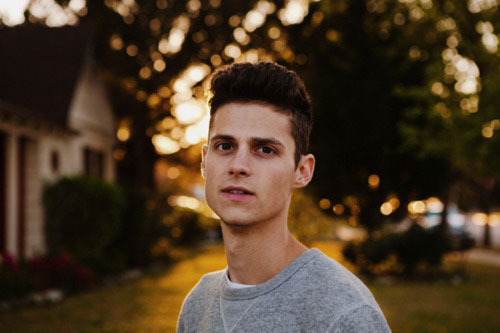 LA Times' Carolyn Kellogg profiles Ken Baumann in this week's Jacket Copy. Baumann is star of The Secret Life of the American Teenager (an ABC Family sit-com), the publisher of Sator Press (an avant-garde small press that he founded in 2010), and the author of Solip (a novel that will be published by Tyrant Books on May 14th).
Check out this excerpt:
In Sator Press, he wanted to create the right print home for the kind of works he'd been reading online. "I knew that there was an abundance of texts floating around from authors who had trouble placing them in the larger ecosystem," he says. He did his research into the real world of publishing, talking to veterans like Richard Nash, former publisher of Soft Skull.

Nash recalls: "As the doctors might say, he presented as a patient with exactly the condition I expected him to be in possession of — the disease known as I Want to Be an Indie Publisher." Nash had no idea Baumann was an actor; he saw him simply as a book lover. "He's the real deal. It's not like buying a quirky pair of pants; you don't do this sort of thing unless you're really into it."

Baumann founded Sator Press as a nonprofit. His goals are manageable — a book or so a year, and press runs that are modest but not insignificant; each book starts with 1,000 copies. His highest-profile author is the poet-slash-aphorist Mark Leidner, whose Sator Press book was 2012's "The Angel in the Dream of Our Hangover." Baumann is Sator's only employee, serving as editor, publisher, operations manager and book designer.

Layout at Sator is a serious undertaking — where most books consist of text flowing down a page, Sator's may not. In "The Complete Works of Marvin K. Mooney," a novel by Christopher Higgs published in 2012, lines of text break and stutter like poetry.

"I'd say 80% of the pages are complete architecture. Almost every page is a beautiful sculpture," Baumann says, paging through the book. "That said, it almost gave me an aneurysm, doing the interior layout."

He's joking, but he did have a genuine health scare last year, when an undiagnosed case of Crohn's disease led to emergency surgery — just weeks before his scheduled marriage to actress Aviva ("Superbad"). "I'm in great health now," he assured me in April by email. "The ironic pleasure of being really sick with an on-the-books disease is having one distinct thing to hate and fight against."

Baumann has a bit of the pugilist's approach to literary culture — as Nash describes it, "a little in your face, a little bit of extra grit in the teeth." It's a tradition that goes back to some of America's most important publishers, like Grove Press, which challenged censors to publish James Joyce in the U.S.

"I read a very long article on Barney Rosset and early Grove, and I was just sold," Baumann says. "I've found the more I do it that it's the most rewarding thing I do: Produce other people's work and not just focus on my own. It's a great step away from the swamps of self."
All this and more at Jacket Copy.