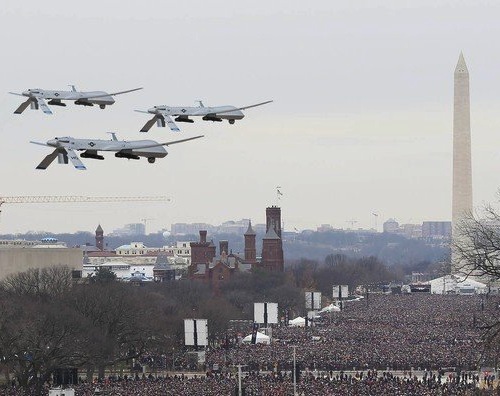 Michael Robbins describes his experience writing an alternative inaugural poem for Yahoo! News on the eve of Barack Obama's second term in this piece published on the Los Angeles Review of Books site.
When Robbins sent his inaugural poem to Yahoo! News, editorial's responses said more about the state of politics in the United States than a standard line-edit. From Robbins's notes:
I have finished my drone poem. Its last word is "queef." Yahoo! is informed, because I am nothing if not conscientious. I am assured "queef" is pretty cool for a drone poem.

Interlude: The OED. Entry for "queef" mildly hilarious.

Yahoo! emails back with bad Yahoo! news. "Queef" actually a pretty big problem for the "standards desk." I withdraw poem in predictable huff, place it on my tumblr, telling all. Righteous indignation on my behalf resounds throughout the blogosphere (need better word for "blogosphere").

Yahoo! is embarrassed. Will I accept a call from Virginia Heffernan [Yahoo!'s national correspondent] herself? I will. Virginia, too, is cool. "Queef," such a silly thing to cause such an uproar. Alas, the Puritans. The prigs. The prudes. Request I replace it w/ "keef." Pressed to explain, Virginia admits "keef" is not a word. I stand my ground. Alternative routes for publication are suggested. The drama of these negotiations.

Scene: Virginia Heffernan's phone. I have decided my best course of action is to flirt aggressively w/ Virginia Heffernan.

[Redacted.]

Negotiations w/ Yahoo! break down. Relations between me & Yahoo! at an all-time low. Poem goes back up on my tumblr. I remember I am doing this for the murdered children. I remember to feel guilty that I am using murdered children as a pretext to stir up queef controversy. People like the poem. Other people do not like the poem.

How many civilians have been killed by drone strikes while I was embroiled in queef drama? The role of the political poet. The role of the half-assed political poet.
Find out about Robbins's fight for freedom of speech, and read more of his thoughts on contemporary politics in the United States at Los Angeles Review of Books.