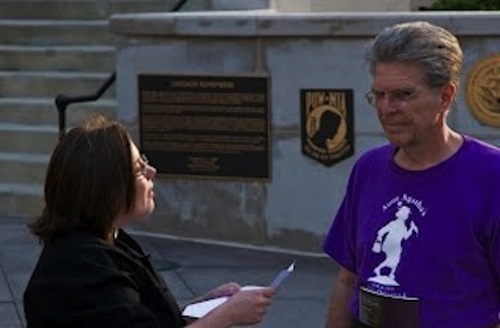 This just in: a new exploratory work from Jennifer Karmin, entitled 4000 Words 4000 Dead & Revolutionary Optimism / An American Elegy: 2006-2012. It's not solely authored, however, and is a companion piece to Revolutionary Optimism, "a response to Abu Ghraib based on confessions from Iraqi prisoners, sympathy cards, and The Tibetan Book of the Dead." Both texts were published together as a chapbook by Sona Books for Veterans Day 2012 and just released online for Memorial Day 2013, which was yesterday, natch. More:
"In April 2008, I began collecting 4000 words as a memorial to the 4000 dead American soldier who had been killed in Iraq. Submissions came from friends, students, writers, activists, soldiers, and those who read about the project online. I asked each person to send me 1-10 words, gave parts of the poem away to pedestrians during public performances across the country, and painted the words using the American flag as a writing utensil in two installations." --Jennifer Karmin
Contributors include! All of these people!
Jeff Abell, Emily Abendroth, Harold Abramowitz, Amanda Ackerman, Carrie Olivia Adams, Kelli Russell Agodon, Manan Ahmed, Malaika King Albrecht, Charles Alexander, Will Alexander, mIEKAL aND, Andrew Axel, Carol Willette Bachofner, Ed Baker, Jenni Baker, Anny Ballardini, David Baratier, Barbara Barg, Thomas Barton, Michael Basinski, Robert Bearak, John Bennett, Linda Benninghoff, Cara Benson, Charles Bernstein, Anselm Berrigan, Cameron Bishop, Joe Bly, Jan Boudart, Jessica Bozek, Lee Ann Brown, Laynie Browne, Kate Burrows, Amina Cain, Steve Cain, Teresa Carmody, Christophe Casamassima, Mars Caulton, Han-hua Chang, Maxine Chernoff, David Chirot, Matthew Clifford, Rachel Coburn, Robert Elzy Cogswell, Esteban Colon, Alanda Coon, Stephen Cope, Colleen Coyne, H. V. Cramond, Justin Crontieri, Barbara Crooker, Kathy Cummings, Sima Cunningham, Steve Dalachinsky, Catherine Daly, Tina Darragh, Heather Davis, Joseph DeLappe, Tom DeRoma, Michelle Detorie, Jennifer K. Dick, Joanie DiMartino, Claire Donato, Carol Dorf, Samuel Dorf, John Dowling, Julie Downey, Colleen Doyle, Kath Duffy, Rachel Blau DuPlessis, Kate Durbin, Patrick Durgin, Ellen Elder, Susan Eleuterio, Laura Elrick, David Emanuel, Joy Emanuel, Laura Esckelson, Yvonne Estrada, Erik Fabian, Annie Finch, Jennifer Firestone, Ann Fisher-Wirth, Audrey Fitting, Tiffany Florestal, Richard Fox, Libby Frank, Audrey Friedman, Nick Fryer, Gloria Frym, William Fuller, Sasha Geffen, Paddy Gillard-Bentley, Dan Glass, Lara Glenum, Dan Godston, Russ Golata, Elliot Gold, Laura Goldstein, David Gonzales, Philip Good, Arielle Greenberg, Kate Greenstreet, Alexis Pauline Gumbs, Gwen Gunn, Therese Halscheid, Duriel Harris, Roberto Harrison, Carla Harryman, Lisa Haufschild, R. Joyce Heon, Larkin Higgins, Elizabeth Hildreth, Jen Hofer, William Honey, J'Sun Howard, Luisa Igloria, Brenda Iijima, Siara Jacobs, Lisa Janssen, Valerie Jean, Judith Johnson, Kent Johnson, Pierre Joris, Bhanu Kapil, Mary Kasimor, John Keene, Pratibha Kelapure, Kit Kennedy, Ali Khan, Helen Kiernan, Matthew Klane, Jacob Knabb, Shareen Knight, Virginia Konchan, Kathy Kubik, Donna Kuhn, Katie Kurtz, Kathleen Larkin, David Lazar, Elizabeth Lazdins, Andre LeMoine, Richard Ledford, J. A. Lee, Janice Lee, Genine Lentine, Ruth Lepson, Andrew Levy, Stephen Lewandowski, Deet Lewis, Robin Rice Lichti, Toni Asante Lightfoot, Malin Lindelow, Jennifer Lizak, Dana Teen Lomax, Carmen Lopez, Bonnie MacAllister, Bill MacKay, Jill Magi, Charlotte Mandel, Douglas Manson, Elizabeth Marino, Mario, Beth Martinelli, Michelle Mashon, Ginny Masullo, Bernadette Mayer, E. J. McAdams, Joyelle McSweeney, Gwyn McVay, Philip Meersman, Daniel Mejia, Miranda Mellis, Mark Melnicove, Nicky Melville, Philip Metres, Erika Mikkalo, Niki Miller, Caroline Morrell, Judd Morrissey, Robin Morrissey, Gregg Murray, Tim Musser, Beverly Nelson, Celeste Neuhaus, Mary Ni, Lynda Perry, Michael Peters, Allan Peterson, Andrew Peterson, Cindy Phiffer, Cecilia Pinto, Vanessa Place, Janna Plant, Deborah Poe, Kristin Prevallet, Paula Rabinowitz, Francis Raven, Monica Raymond, Marthe Reed, Timothy Rey, Margaret Ricketts, Rosalie Riegle, Andrew Rippeon, Christopher Rizzo, Jenny Roberts, Kenyatta Rogers, Anne Marie Rooney, Sarah Rosenthal, Phyllis Rosenzweig, Linda Russo, Becky Sakellariou, Lisa Samuels, Thomas Savage, Davis Schneiderman, Carrie Santulli Schudda, Susan Schultz, Steve Scott, Jeremy Seligson, Dennis Serdel, Anne Shaw, Lindsay Shields, Shu Shubat, Earl Silibar, John Simon, Laura Sims, Beth Snyder, Juliana Spahr, Cassie Sparkman, Donna Spector, Karin Spitfire, Christopher Stackhouse, Chuck Stebelton, Jordan Stempleman, Rachel Storm, Hillary Strobel, Renée Szostek, Stacy Szymaszek, Estelle Tang, Shaunanne Tangney, Gene Tanta, Michelle Taransky, Mark Tardi, Marvin Tate, Catherine Taylor, Michael Thomas, Tony Trigilio, Eric Unger, Nico Vassilakis, Marian Veverka, Matias Viegener, Erin Virgil, Anna Vitale, Gale Walden, Sue Walker, Julene Weave, Josh Weckesser, Natasha White, Joshua Marie Wilkinson, S.L. Wisenberg, Anne Woodworth, Clotilde Wright, Samantha Yams, Andrew Zawacki