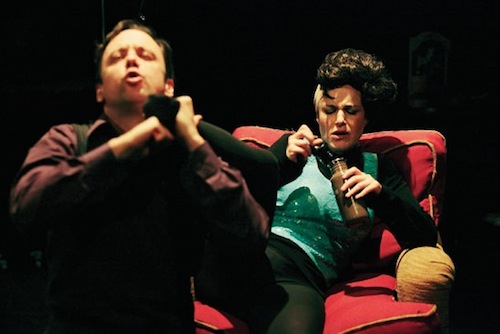 Poetry and theater are necking in the coat closet again--if you're in New York on June 3, check out the CUNY Graduate Center Segal Theatre's latest extraordinary programming, "Poetry in Theatre: Early Frank O'Hara + Plays by Contemporary Poets, with Judith Malina," which features Ariana Reines & Jim Fletcher, Kenneth Goldsmith, Bob Holman, Yusef Komunyakaa; and a reading of Frank O'Hara's early play Try! Try! A Noh Play, presentations of poetry by Lemon Andersen, Sibyl Kempson (above, from her amazing Crime or Emergency, PS122, December 2009), and Christopher Knowles, and "an unmissable conversation with Judith Malina (Co-Founder, The Living Theatre)."
The now-legendary group of 1950s American poets called the New York School—including John Ashbery, Barbara Guest, Kenneth Koch, and Frank O'Hara—crossed artistic disciplines and collaborated frequently with painters, sculptors, and theatre artists including Julian Beck and Judith Malina of The Living Theatre. Together, these forward-thinking artists created a hive of activity that might be considered a precursor to today's Off-Off Broadway theatre scene. But what is the state of such cross-disciplinary involvement today? The Segal devotes a day to revisiting these seminal collaborations between poetry and theatre and to highlighting the legacy of the poetry/theatre connection in New York.
Lunch and dinner. Here's the schedule:
2pm: SOMEWHERE NEAR HERE by Yusef Komunyakaa (Pulitzer Prize-winning poet), directed by Kenneth Sean Collins

3pm: LORNA written and directed by Ariana Reines and Jim Fletcher

4pm: FIDGET by Kenneth Goldsmith, directed by Tom King

5pm: CLEAR THE RANGE by Bob Holman and Bob Rosenthal, directed by Allison Troup-Jensen

6:30pm: Christopher Knowles reads THE SUNDANCE KID IS BEAUTIFUL and other poems

6:45pm: Lemon Andersen

7pm: TRY! TRY! by Frank O'Hara, directed by Elise Thoron and featuring Judith Malina (The Living Theatre), Michael Laurence, and David Margulies

7:30pm: Panel with writers and Judith Malina, moderated by Frank Hentschker

8:30pm: Sibyl Kempson
Find the full event info here. And for more information on O'Hara and Ashbery's ventures into playwriting, might we suggest the very enjoyable memoir by V.R. "Bunny" Lang, V.R. Lang: Poems and Plays, With a Memoir by Alison Lurie (1975).