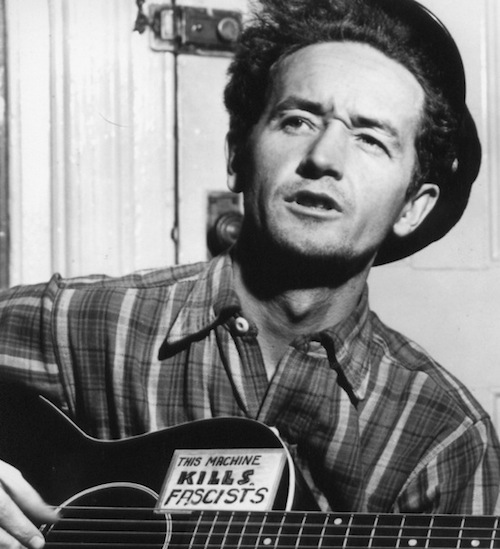 True story!
The archives of famed songwriter, social activist, and one of our favorite poets, Woody Guthrie, have migrated from Mount Kisco, New York, to Tulsa, Oklahoma, as reported on National Public Radio today. The move is owed, in part, to a phone call from a nurse who worked in the State Hospital for the Insane, in Norman, Oklahoma: where Woody Guthrie's mother spent the last three years of her life.
"It was a very moving experience for me," Nora Guthrie says. "I was able to call my aunt, Mary Jo, who lives here in Oklahoma — Woody's little sister — and they were able to have a formal service at her grave site."
Nora Guthrie, Woody Guthrie's daughter, has overseen her father's, archives since the 1990s. Woody Guthrie's archives consist of over 10,000 items that range from lyrics to sketches.
"My mom had preserved everything and packed everything up in boxes when my dad died," Nora Guthrie says. "And she had always had this dream of, wouldn't it be nice if there was a place. ... I mean, she didn't dream it would be like this, 'cause this is pretty classy, you know, high-techy stuff."

The 12,000-square-foot facility sits on a corner of an arts district in an area of Tulsa that itself was disparaged but is now experiencing its own renaissance. The centerpiece inside the Woody Guthrie Center is a special glass case holding the handwritten version of "This Land Is Your Land," which up until now was generally unavailable for public view. A few steps away, a concrete-walled room contains the material Nora Guthrie had supervised in New York, all carefully cataloged and preserved.
For more information about the Woody Guthrie Center, newly opened in Tulsa, visit: www.WoodyGuthrieCenter.org.