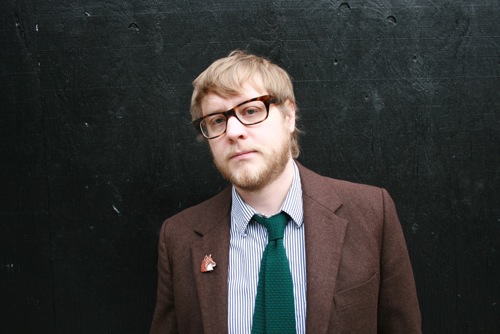 Poet and editor Brett Fletcher Lauer has written an essay for A Public Space entitled "A Supposed Person" that addresses his early fascination with Missed Connections, faking it, poetry, and online dating. It's an eloquent account, despite the sordid possibilities:
Almost two decades later, as my own divorce was being finalized, I began online dating. It started simply enough. At a friend's apartment we flipped through The Collected Poems of Wallace Stevens and John Ashbery's Hotel Lautréamont playing a poetic parlor game with my dating profile, finding chance phrases and lines that both amused us and provided a possible answer to the question being asked. A distant third consideration was whether the phrase, plucked at random, sufficiently represented my sensibility, or the sensibility we were crafting for me.

In the end my profile read in part:

The best or worst lie I've ever told: The apples fall without astronomy.
If I was given a million dollars: A little island of geese and stars.
The role religion plays in my life: He felt curious about the winter hills.
More about what I am looking for: Canaries in the morning, orchestras
My heart pinned in a trance to the notice board.

It was around this time that I also began compulsively checking Craigslist Missed Connections out of loneliness and boredom, which are the same. Even with my dating profile—which featured a photo of me wearing a horse mask—my phone wasn't ringing, believe it or not. Nothing was happening. I decided to make something happen. I wrote my first fake Missed Connection, which was composed of texts from profiles I found on the dating site.

Subject: Anywhere Williamsburg
It may or may not be unfortunate that people search for certain sex, anonymous travels, individuals for laughter, or text messages all night. It takes time to write these e-mails with a personal account reduced to various forms, opportunities, and objects I can't account for. Click here: just what you knew you never knew you were going to get, a girl prowling about town, sugar on spikes, what's wrong with a little self-destruction, placing the ass in Cassie since 1982. Set standards, and then bingo break 'em. It may be artificial, it is artificial, but I won't shoot myself footless. Others are determined to attend fashion week or a free bluegrass concert on an abandoned pier. I swear I want this whole wide world just not most of that. Let's just talk about this sunset, or the rosy fingers of dawn, better still, dirty talk if you say so, both of us, at once, starting now. It may end up being a touch to never scrub away. This may or may not be mutually beneficial, but here I am, two miles away, your three-night stand, rain or shine, on foot.

And, small World Wide Web that we live in, Cassie responded:

Dear Mr. Mystery Missed Connection,
I'm not sure if your post had anything to do with me, but my friend passed it along because my MySpace tagline is "putting the ass in Cassie since 1982." Although fashion week and bluegrass concerts aren't ringing a bell, that's potentially my ass you're talking about.
Have we met?
Cassandra

Dear Cassandra,
I don't know you. I wrote that based on profiles from a dating site. It was meant to be a project to see if I could take all the interesting language and profiles and craft it into a text that represented the strange experience of being on a dating site. Perhaps I didn't think it all the way through, and didn't mean for you to stumble upon it, and hope it didn't freak or weird you out too much and will remove the posting if it did.
Jake

Hey Jake,
It's no problem—I was mostly bewildered, since 90 percent of the entry was unfamiliar (but since I was at McCarren Pool twice this week, I figured I would check it out). It's pure luck that I have a friend that peruses Missed Connections! Don't worry about taking it down. It's not really deprecatory, just odd. I do feel sheepish for being busted for being on a dating site, though.
Cassie

Cassie,
Oh don't feel sheepish. You got "caught" by someone who is also on the site. That doesn't really count. Also to come clean, and make this entire thing even creepier, my name isn't Jake.
Yours, Brett
Brett goes on with his experiments, for better and worse. "I was too lonely to think about ethics or intentions. I was too embarrassed to admit that I was consumed with the art of presenting myself to others, whether in an internet profile, which was itself a poetic game, or through these brief prose poems—which were in reality too strange to be specific enough for any particular person, and too general to not be for any other lonely person like myself, hoping to find someone worth anonymously reaching out to."
Nope, you're not alone in considering the art of self-presentation in the context of actual relating, sir! Ahem. Read the entire piece here.