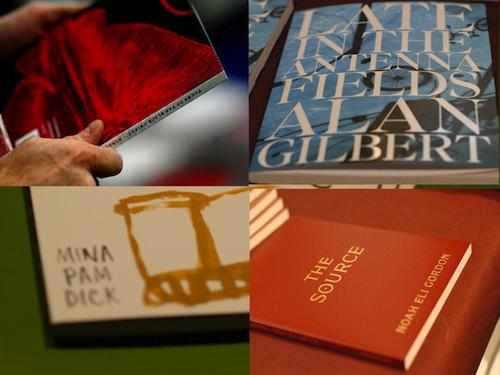 Futurepoem Press announced the winners of its 2012 Open Call: Sueyeun Juliette Lee, for her manuscript, Solar Maximum, and David Buuck, for his manuscript Site Cite City. Congratulations to Sueyeun and Buuck!
This year's guest editors for the 2012 Futurepoem contest were Christian Hawkey, Richard Maxwell and Juliana Spahr. Futurepoem Press will announce the guest editors for the 2013 Open Call, later this summer.
New to Sueyeun and David's work? Check out their bios:
David Buuck is a writer who lives in Oakland. He is the founder of BARGE, the Bay Area Research Group in Enviro-aesthetics, and co-founder and editor of Tripwire, a journal of poetics. An Army of Lovers, co-written with Juliana Spahr, is forthcoming from City Lights in October 2013. Publications, writing & performance samples, etc. available via davidbuuck.com

Sueyeun Juliette Lee grew up three miles from the CIA and lives in Philadelphia. She edits Corollary Press, a chapbook series devoted to multi-ethnic innovative writing, writes reviews for The Constant Critic. Additionally, she serves as a poetry editor for the Asian American Writers' Workshop's digital magazine The Margins and is a contributing editor at EOAGH. Her books include That Gorgeous Feeling (Coconut Press) and Underground National (Factory School). She teaches part time at the University of the Arts and at Richard Stockton College. You can find her at silentbroadcast.com
Get ready! Learn more at Futurepoem and at its blog, Futurepost.