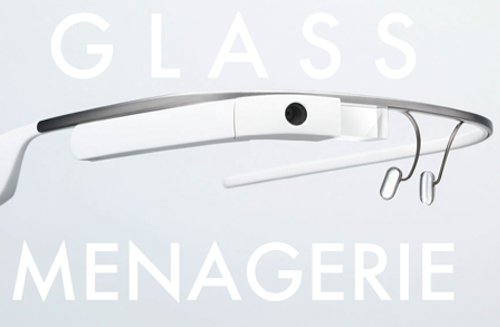 Thanks to the New York School Poets (blog) we found this article by Virginia Heffernan about trying Google Glass and the experience's relationship to poetry.
In order to be one of the first to try Google Glass, Heffernan wrote a proposal to Google explaining that she would explore the poetry and grief of the technorati's newest accessory.
At Yahoo! News, she writes:
Poetry inevitably surfaced, where "poetry" does not just equal sweetness and light. It was more like actual poetry, the kind with dying and lonesome despair high in the mix. It was John Ashbery in particular that came to mind, way unbidden, and his glorious ekphrastic poem, "Self-Portrait in a Convex Mirror." About a painting by Parmigianino, Ashbery wrote:

The soul establishes itself.
But how far can it swim out through the eyes
And still return safely to its nest? The surface
Of the mirror being convex, the distance increases
Significantly; that is, enough to make the point
That the soul is a captive, treated humanely, kept
In suspension, unable to advance much farther
Than your look as it intercepts the picture.

Noticing as I photographed myself in the café mirror how people seemed to chat about me but not to me, I grew paranoid. Not having ever once in my life acquired a covetable or new thing, Vuarnets or Crocs or a Polo shirt before hordes of other people had virtually worn it out, I had no choice but to assume my new thing had made me a pariah. Or at least a muttering madwoman, since I was by now making videos and narrating them in a running sotto voce monologue.

In any case, my former café pals now had no time for me, which brought to mind another great poem: Thomas Wyatt's "They Flee From Me"—a kind of 17th-century "Somebody That I Used to Know", about disloyal exes who have stopped coming by. Wyatt faults the fleeing humans—more than one!—for their "newfangledness," which was then a new word for fickleness. Because Glass is nothing if not newfangled, and because I seem to be fatally attracted to Glass, I studied these sorry lines:

They flee from me that sometime did me seek
With naked foot, stalking in my chamber.
I have seen them gentle, tame, and meek,
That now are wild and do not remember

After awhile, I took Glass out on the street. I passed people in spring clothes, and I grew mad for them to be in contact with me. At first they fled from me; but then, it happened: A filmmaker spoke to me; he tried on Google Glass. A girl came up; a developer; another developer. The fleeing was ceasing!
Hopkins and Whitman even join the mix. Check it out at Yahoo! News.