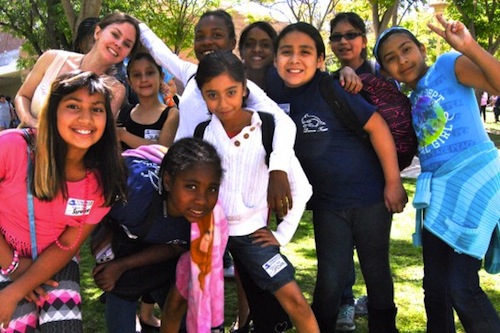 Juan Felipe Herrera teaches poetry at the University of California, Riverside and since 2012, has served as California's poet laureate. This spring, he joined forced with one-hundred fifth grade students from Moreno Valley's Towngate Elementary School to launch i-Promise Joanna, an anti-bullying awareness project, and an official Poet Laureate Project, at UC Riverside's Gluck Day of the Arts. The project is named after Joanna Ramos, a ten year-old girl from Long Beach who died as a result of an after-school fight.
Herrera writes:
I hope I can do something to stop it, to curb bullying in all its ugly forms... This was about Joanna, but it was also about me growing up as a little brown kid not knowing English, feeling ostracized and ashamed, slapped and picked on. When I saw Joanna, I saw myself. I said, 'Juanito, that's it.'
As UC Riverside Today explains:
Herrera consulted with the staff of the UCR Gluck Fellows Program of the Arts, a program funded by the Max H. Gluck Foundation that creates outreach opportunities across the Riverside region by bringing Inland-area students to UCR and sending graduate students to present free programs in art, music, dance and theater at schools, nursing homes and community centers.

Through the Gluck program, graduate fellows will introduce the i-Promise Joanna project with a brief video of Herrera and a classroom poetry activity that invites students to talk about the impact of bullying in their lives and elicits a promise to seek peaceful solutions to disagreements and speak up when bullying is observed.
Read more about i-Promise Joanna at UCR Today; read more of Juan Felipe Herrera's poetry here.