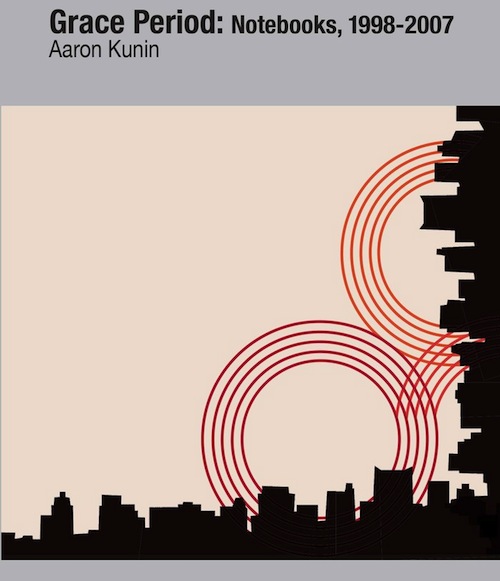 We're digging these lists of summer reads over at HTMLGiant--and today is Jen Hofer's, which is particularly mindful, and Aaron Kunin-full, hooray (yes, we're also reading Grace Period). More of the poetry!
Grace Period: Notebooks, 1998-2007, Aaron Kunin (Letter Machine Editions, 2013)

Here you will find at least two worlds, and then some. In an interview conducted by Tom Fleischmann in Seneca Review, Aaron Kunin said: "Is my interest in the gesture of withdrawal from the world compromised by the worldliness of the speaker positions in my writing? That is a real problem. The solution is dualism. Where in the world can I go that isn't in the world? I can't. To get out of the world, I need at least two worlds. That is the paradox of misanthropy: in rejecting society, you project another one."

Fair warning: Aaron Kunin's notes are totally addictive.

[...]

Beauty is a Verb: The New Poetry of Disability, ed. Jennifer Bartlett, Sheila Black and Michael Northen (Cinco Puntos Press, 2011)

WITH

Troubling the Line: Trans and Genderqueer Poetry and Poetics, ed. TC Tolbert and Tim Trace Peterson (Nightboat Books, 2013)


In her gorgeous Albion Books chapbook titled Anything has to be easy enough to get done, Jennifer Bartlett quotes Ron Silliman's remarks on Larry Eigner: "the complex choreography of one whose total physical vocabulary is in use in the composition of the poem." What other vocabulary is there, other than the total physical vocabulary? Our bodies inform our work, Bartlett argues. Who could ever have the luxury to dodge this truth, and to what end? Languages and bodies are material. They matter. These anthologies are about bodies, about language, about material reality, about conceptual complexity, about personhood—that is, a condition we all share, and each experience in utterly distinct ways, informed by entirely different "total physical vocabularies."

Thank You for the Window Office, Maged Zaher (UDP, 2012)
"Let us be accurate:"

—in the way only poems can be accurate, that is, full of quirks and run-ons and short-cuts and minute details and vast leaps and impossibilities and realities and elisions and magnifications. I had the good fortune to meet Maged Zaher in person and hear him read at the East Bay Poetry Summit in May. About readings, I always say it's better to leave 'em wanting more than wanting less. I left Maged's reading and wanted more.