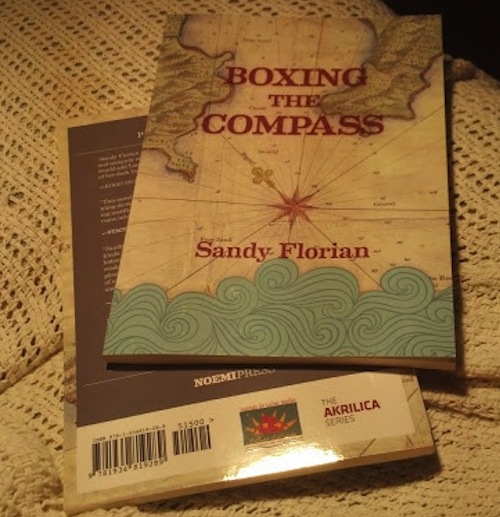 Good news: Notre Dame's Letras Latinas (the literary program of the Institute for Latino Studies, if you aren't awares) is turning some leaves in a new partnership and book series with Noemi Press; the initiative will showcase new books by Latina/o writers! First book to be published will be Boxing the Compass, by Sandy Florian. More on this:
The new imprint aims to complicate the perception of contemporary Latino/a letters in order to fully represent the complexity of Latino/a histories, politics, and aesthetics. "The seed for AKRILICA was planted in the fall of 2010 when I had extended conversations with Carmen Giménez Smith and J. Michael Martínez, who is Noemi's poetry editor," said Letras Latinas director FranciscoAragón. "It was during an NEA-funded residency at Ragdale for Latino poet-editors, and we talked about wanting to create a space for work that thwarts common expectations when a term like 'Latino poetry' is uttered or discussed."

[. . .]

The series name commemorates and revives a groundbreaking volume of poetry published in Santa Cruz, CA in 1989, a collection in which the Spanish-language original was rendered into its English-language counterpoint by a team of five translators which included the author himself: Juan Felipe Herrera.

Noemi Press, founded in 2002 by award-winning writer and editor, Carmen Giménez Smith, strives to publish between 4 and 6 titles a year and administers two national book prizes for poetry and fiction, respectively. Noemi has also published chapbooks, including Heterotopia by 2009 Letras Latinas Residency Fellow, John Chávez.
"We're thrilled to be partnering with Letras Latinas," said Giménez Smith who, in addition to its founder, is Noemi Press' publisher. "The AKRILICA imprint is going to be an important new presence, contributing to the ongoing conversation about identity and contemporary poetry," she added.

Letras Latinas seeks to enhance the visibility, appreciation and study of Latino literature both on and off the campus of the University of Notre Dame, and is particularly interested in projects that identify and support emerging voices.
For the full release and info on the next title in the series, by Los Angeles-based writer elena minor, go to the Letras Latinas blog.