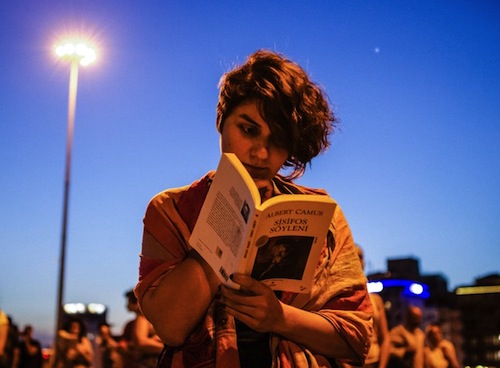 This is a beautiful slideshow of citizens in Istanbul silently reading in Taksim Square as part of the ongoing resistance movement. Thousands of people began to join the "Standing Man"--performance artist Erdem Gunduz--in the days following his initial eight-hour nonviolent form of protest. Aljazeera reports:
With extraordinary speed, Gunduz become the latest symbol of the resistance movement. In days that followed, thousands of people would emulate his solitary act, standing silently, for minutes or hours, in places across Turkey.

The contrast with the images of tear gas clouds and water cannon could not have been greater. Faces obscured by masks and helmets were revealed to show expressions of quiet contemplation.

Violent scenes are still occurring around Turkey, including in Istanbul once again this past weekend, but the Standing Man protests continue unabated.

The following images explore one aspect of the protest in Taksim Square, ongoing since before the communal standing took off. Public reading and informal education has been notable since the earliest days of the protest, but has since merged with the Standing Man to form "The Taksim Square Book Club".

The chosen reading material of many of those who take their stand is reflective, in part, of the thoughtfulness of those who have chosen this motionless protest to express their discontent.
View the images here.