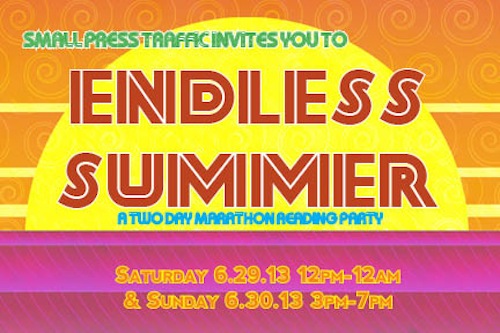 Small Press Traffic's marathon fundraiser event, Endless Summer, is on the horizon. This two-day event in Oakland and Berkeley, on June 29th and 30th, promises to feature—as the organization's website describes—"an amazing slate of awesome."
Here's the details, from Small Press Traffic's website:
June 29th at the Public School
12pm – 12am
BART adjacent and ADA-accessible
@ 2141 Broadway in Oakland

June 30th at Gloria Frym's private home in Berkeley
3pm – 7pm
20 minute walk from BART
(address available on request)

We've had a fantastic year hosting remarkable innovators in literature and are excited to be planning an extravaganza that feels like the perfect end-of-season party in the summer sun. We're going to fire up the BBQ, chill the beer, put on the sunscreen and spend the day with the community of writers we call friends.

If you're interested in reading at this event, email for more information at smallpresstraffic@gmail.com

Tickets available at brownpapertickets.com/event/392724
1-day general admission: $10
2-day general admission: $15

1-day VIP (includes food and drinks) $25
2-day VIP $45
Endless Summer promises to include readings from Bay Area locals (and visitors): Alana Siegel, Alan Bernheimer, Andrew Kenower, Ben Mirov, Bill Berkson, Brent Cunningham, Carrie Hunter, Cedar Sigo, Charity Coleman, Cynthia Sailers, Dana Teen Lomax, David Buuck, David Lau, Denise Newman, Elaine Kahn, Elise Ficarra, Elizabeth Treadwell, Erika Staiti, Farnoosh Fathi, Gillian Conoly, Gloria Frym, Hazel White, Jean Day, Jocelyn Saidenberg, Johnny Hernandez, Kit Robinson, Juvenal Acosta, Laura Moriarty, Megan Breiseth, Mary Burger, Nicole Trigg, Oki Sogumi, Patricia Diestfrey, Paul Ebenkamp, RJ Ingram, Rachel de Jong, Rob Halpern, Robin Tremblay-McGaw, Ronaldo Wilson, Samantha Giles, Sarah Ann Cox, Steve Dickison, Ted Rees, Tanya Hollis, Wendy Trevino, Yedda Morrison, and Zack Haber - among many additional readers!
And "DELEGATIONS FROM PORTLAND OREGON, LOS ANGELES, SEATTLE, DETROIT, PHILADELPHIA, DENVER/BOULDER, DURHAM & FRIENDS, AND NEW YORK CITY!"
There are a few slots left for readers and several tickets to the event available to purchase.
As Samantha Giles, Executive Director for Small Press Traffic, writes:
We are so lucky to live in an area rich with innovative and exciting writers. Endless Summer is not only a celebration of the year's worth of programming offered by SPT, but an opportunity for the vibrant Bay Area experimental writing scene to come together in a fun, casual community event and to get a sampling of what each other is up to in their projects. We just couldn't contain it all in one day!
For more information about Endless Summer, visit Small Press Traffic's online presence here.