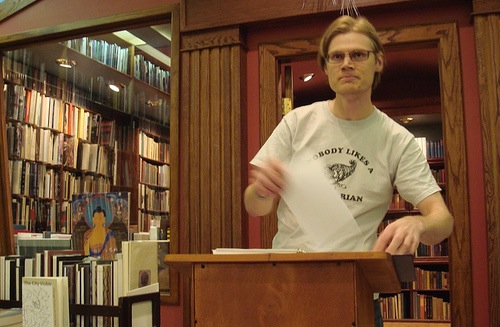 rob mclennan recently posted an informative interview with Chicago-based poet Mark Tardi on his blog. Tardi, who penned Euclid Shudders and the newly released Airport music in addition to an essay in the recently released volume Theory That Matters: What Practice After Theory, has a lot to offer on staying afloat despite rejection:
I learned a lot from the first book being published, but it was a study in fortitude and contrasts. I sent out Euclid Shudders to more than thirty publishers, and got rejection letters that ran the gamut. Perhaps the lowest point was getting my own query letter sent back to me with a single line scrawled on the bottom: "We're not taking unsolicited manuscripts." And the most confusing rejection was getting a three-page single-spaced reader's report that was the most in-depth and complimentary evaluation of my work I've ever read to this day -- which of course ended the last paragraph by saying the publisher didn't have a place for the book. When I had gotten twenty-eight rejections, I actually thought, "Twenty-eight is a perfect number, which is nice in a way." (A perfect number is a number whose factors add up to itself.) A couple of weeks later, the National Poetry Series notified me the manuscript was a finalist, which shocked me but also reminded me that maybe I'm not totally off-base; and a few months after NPS released their selections and the manuscript was passed over, Litmus Press accepted the manuscript for publication, which was thrilling.
And the role of the modern writer:
I'm paraphrasing slightly, but I think Robert Duncan once wrote something like "Go write yourself a book and put therein what might define a world." I don't think I could state it any better. Of course we're now dealing with the blinding speed of technology, and I know various people have suggested that the Facebook status or the tweet are last new genre to be created. I was an early adopter of Facebook but a few years ago found it more useful to close my account than to "Like" the latest video of a cat farting out the Carmina Burana. I appreciated a certain kind of immediacy from Facebook, but I resented how I would get sucked into political arguments and petty dramas. The cost is that I'm less informed on certain events and flows, but I'm less irritated and read more things I find energizing.
among other things. Check out the full interview for more insight and inspiration.
Photo above by Timothy Yu.