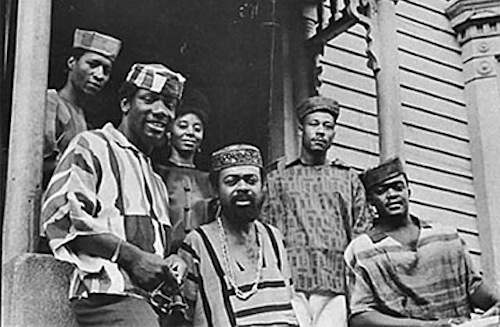 In conjunction with the "AfriCOBRA in Chicago: Philosophy" exhibit at the Logan Center for the Arts at the University of Chicago, South Side Projections will present two more nights of free screenings providing a wider context to the Black Arts Movement. The August 2nd screenings will take an inside look at the day-to-day struggles and realities of poets Sarah W. Fabio and Amiri Baraka as they stretch the boundaries of politics and artistic expression. Here's the screening information from the South Side Projections website:
August 2 @ 7pm: Black Power Poets
Co-presented by Black Cinema House

It was for the written word that the Black Arts Movement achieved its greatest amount of recognition, and these films explore the lives of two of the movement's most talented poets. In Rainbow Black: Poet Sarah W. Fabio (Cheryl Fabio, 1976, 30 min., 16mm), the poet's daughter tells the story of her mother, the writer and educator lauded as the "Mother of Black Studies." And In Motion: Amiri Baraka (St. Clair Bourne, 1983, 60 min., DVD) follows the fiery poet through his 1967 arrest and conviction for resisting arrest during the Newark Riots.
These free screenings will take place at the Logan Center for the Arts, 915 E. 60th Street on the University of Chicago Campus.