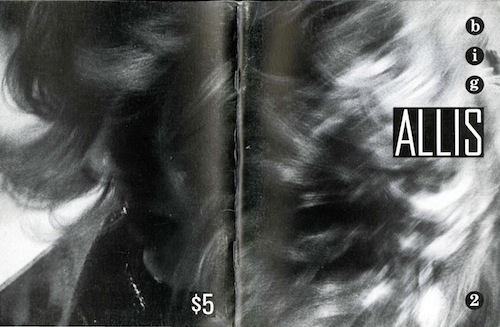 One of our favorite long-lost journals has just been preserved in full online and is now available for digital download, thanks to Danny Snelson and the Jacket2 Reissues archival project. "Reissues is inspired by archival platforms ranging from Eclipse and UbuWeb to The Modernist Journals Project and The International Dada Archive. Just as Jacket2 is built upon the preservation of forty issues of John Tranter's Jacket magazine, Reissues seeks to re-present periodicals in conversation with contemporary issues in poetics." The newest reissue, Big Allis, which ran from 1989 to 2000 and was edited by Melanie Neilson and Jessica Grim, "generated a dynamic forum for contemporary writing by emerging and established experimental poets with a specific focus on innovative poetry by women." More:
The magazine published nine issues over its twelve year run. Grim co-edited the first seven issues with Neilson, who was then joined by associate editor Deirdre Kovac for the final two issues. Tracing an exuberant range of language and post-language practices throughout the nineties, Big Allis sketches a decade of vibrant poetics radiating around NYC, the Segue Foundation, and the Ear Inn reading series. In the words of Bruce Andrews, the magazine offered "a rematerializing, multitorquing, postpatriarchal language-centered rebellion." Like its supergenerator namesake, Big Allis conducts massive amounts of sheer energy in each issue – read as a whole, the magazine's arc is nothing short of electrifying.

While the first six issues were side-stapled with matte stock covers, the remaining three were perfect bound with glossy covers. All covers were designed by Jean Foos, often using found and appropriated imagery. By following this link [forthcoming], you may find her commentary on the magazine alongside a series of recollections by editors Jessica Grim and Melanie Neilson, as well as contributors Bruce Andrews, Tina Darragh, Rob Fitterman, Lyn Hejinian, Jena Osman, Joan Retallack, James Sherry, and Rod Smith.
Find every issue of Big Allis here.