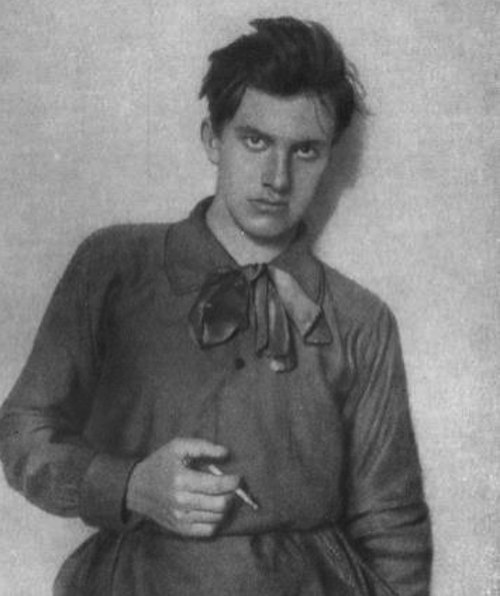 The Moscow News reports trouble around the 120th anniversary of poet Vladimir Mayakovsky, even amidst serious celebration: "The anniversary festivities began at 11 a.m., with a ceremonial laying of flowers at Mayakovsky's grave in Novodevichy Cemetery, and then continued at Triumphalnaya Ploshchad, the meeting place of nonconformist poets in the 1950s and '60s." The celebration, which also included dancers dressed in the original costumes designed by Kazimir Malevich for the Futurist opera "Victory over the Sun," occurred in conjunct with a renovation of the Mayakovsky Museum, which is under new leadership:
...He remains highly read; according to a survey conducted last week by the Levada Center, Mayakovsky is the second most popular Russian poet (behind his friend Sergei Yesenin).

The fight over Mayakovsky's memory is at the center of the current controversy over the museum dedicated to the poet. Its singular design dates from the 1980s, featuring jagged Constructivist-like red shapes, photo collages and a litany of objects dangling from the ceiling.

Last fall, an announcement appeared on the city culture department's website that the museum would close for "renovation and reconstruction" and reopen with a new format, leading to public outrage. City culture head Sergei Kapkov later backtracked, saying that the displays would retain their current form. An anonymous blogger who runs the site mayakovsky.info still alleges that the museum's director intends to "demolish the exhibition" and calls on supporters to halt the city's "barbaric plans" by writing to Mayor Sergei Sobyanin.

This past winter, the museum's longtime head was replaced by Nadezhda Morozova, who previously worked at the Pushkin Museum. Her arrival has been interpreted by some as a sign that the spirit of the museum is undergoing a fundamental shift, and was protested by some staff.

The type of language Morozova uses to describe the poet - "we want to reboot this famous figure, like rebooting a computer" - presumably does little to assuage the doubts of her critics. "We want him to be seen not just as a propagandist, like in the Soviet era, but as a poet with tender, piercing lyrics, a figure of a new time - not of Soviet, but almost cosmic proportions," she said.

But she rebuffs the notion that the museum will be significantly altered, saying that it is undergoing "structural renovations" to improve its plumbing, ventilation and communication systems and that the "the display itself won't be touched."
The piece turns anecdotal from here, marking Mayakovsky's time in Manhattan, his love affair with Elly Jones, and their daughter, whose parentage wasn't public knowledge until the 1990s. An excerpt:
Mayakovsky didn't care for New Yorkers, whom he described to one interviewer as "intellectually very provincial," nor was he taken with their skyscrapers, which he considered too ornamented ("it's like slapping red bows on an escalator," he wrote). However, some of the verses he composed during his stay there reveal the energy with which the metropolis infused the young poet: "Ya v vostorge/Ot Nyu-Yorka goroda" (I'm in a tizzy/Over New York City). He spent much of his time strolling down Broadway and Fifth Avenue, as well as frequenting billiard halls and Harlem cabarets.

Mayakovsky spoke no English; a hypochondriac, he carried an apology for not shaking anyone's hand, which he kept written down on a crumpled note in his coat pocket. The silver-tongued author of "A Cloud in Trousers" felt continually stymied by his lack of fluency. In a series of essays he wrote about the trip, "My Discovery of America," he described attending parties hosted by New York's literati, who had been told that Mayakovsky was a genius. He would then arrive at the party, able only to utter "could you give me some tea, please" in a thick accent. "Ah, what a Russian, he never utters a word more than necessary!" they thought, in Mayakovsky's imagination. "A thinker. Tolstoy. The North."
Read it all here.