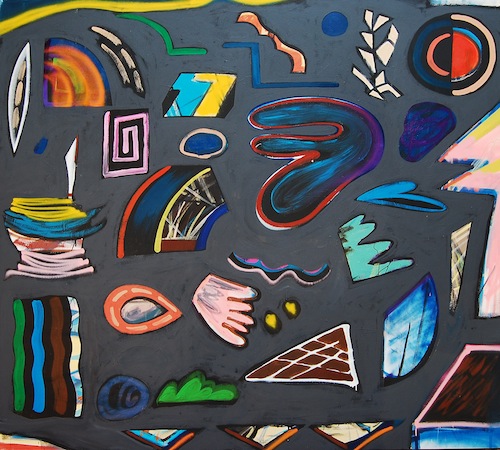 At BOMBLOG, Mike Young interviews Jack Christian, author of the new poetry book, Family System. Family System was winner of the 2012 Colorado Poetry Prize. Their conversation is a fast-moving vehicle and we enjoyed passages like this one, right from the start:
When BOMB asked me to interview Jack Christian about his book Family System, I knew right away we needed some rich food between us. Jack's poems burn a lot of calories. They're hopscotchers and spitballers. What they do with their eyebrows is faster than jogging but pointed toward prayer. Family System is a mangy, stone-skipping, clever, juking, ropeswing-over-the-swimming-hole-of-selfhood book of poems. They are shaking their fist at the God of trash talk. They say, "How sane to be a knucklehead with a wagon to tote a friend in." Jack Christian wrote a book called Family System, which won the 2012 Colorado Poetry Prize, and this book says, "We decide the road looks like a nomadic leaf sculptor / went walking up it and down it. That his life's work took a day."

So email wouldn't cut it. We needed to drive through a snowstorm and eat bourbon-chocolate pie and fried chicken and andouille sausage in Western Massachusetts's best (and/or only) Cajun outpost. And we needed to talk about Family System so Jack could show me why I'm wrong, mostly, to Huckleberry Finnize him.

In talking to Jack, I was hoping to learn more about how he saw the titular concept of family, and what "family" meant to the restless swimmer I read in these poems, the one who would just as soon dislocate his shoulder in an inner tube as hang back on the bank eating civilized sweet pickles with an aunt-in-law. Craft? For sure: I wanted to talk about Jack's sly over-articulated phrasing, like "Our tunes were of motorboat" and "The Swampwater Baptism includes a gator as expected / and a man who rides the gator, which is permitted, / and a gown that gets wet, but not exclusively."

[...]

What I found out was that this book is really the chronicle of a poet in transition, a poet growing up on Frank Stanford and tomahawk yawps but wanting to find his way into a calmer place. As Jack says, going from next hill to planting still. Like what happens when the kid wrestling with his brother in the back seat realizes he's about set to start a family of his own? How is the rambler with the mom and dad who held summer conferences on how to be a good family going to figure out a way to live in so many different selves and skins without crawling out of them?

[...]

Talking with Jack, I realized that Family System is more than a book with a bunch of whammy lines—post-Ashbery managing a rural grocery store, making jokes about how he's not from around here, jokes that give everybody who is from around here a crush on him. It's that, but it's also a personal book. It's Jack's book. It's a fascinating, hilarious book, and the sugar in its tea is a big, bashful, nervous, and very joyful blood.
Re-anoint thyself with culture at BOMBLOG!