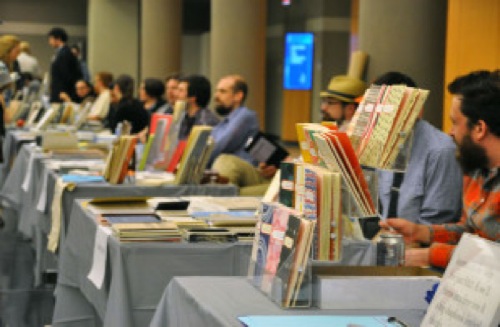 OmniVerse blogged enthusiastically about the recent New York City CUNY Chapbook Festival--which took place in early May--mentioning Simone White, Elaine Kahn, Mónica de la Torre, The Song Cave, and Lost & Found: The CUNY Poetics Archive Initiative, among others, as standout. Among others:
Andrew Durbin, author of Reveler from Argos Books, and co-publisher of Wonder (with Ben Fama), read from the press's manifesto: "Wonder continues to LOL, more rapidly and with fewer objects to laugh at, disembodied and hovering over those for whom this laughter signifies something else entirely: the return of poetry."

Readers Marisa Crawford, with a recent publication from Immaculate Disciples, Kit Schluter of O'Clock Press, Brett Price of Ugly Duckling, Bianca Stone of Monk, Elaine Kahn, with a stunner just out from Poor Claudia, and Patricia Spears Jones were we all worthy of note, while once and future fellows from Cave Canem, including Natalie Diaz, Raven Jackson, Nicole Terez Dutton, Brian Francis, Darrel Alejandro Holnes, gave vivid life to their respective texts.

That night, the Poetry Society of America honored their 2012 Chapbook fellows with a 10th Anniversary reading in the Proshansky Auditorium at the CUNY Graduate Center. This year's fellows—Danielle Blau, Eric Bliman, Justin Boening, and Cherry Pickman—were selected by poets Vijay Seshardri, Dara Wier, and Matthew Rohrer, as well as Alice Quinn, who presented images of all 40 PSA chapbooks in the series, with their covers patterned after historical textile designs. The reading was sweet, sober, and romantic. Cherry Pickman won the crowd over with lines from her book Theory of Tides like: "I hope in time the spectrum/isn't as important as the one insistent and hard-ringing color."

There were chapbooks and hands-on book-making demos by the coordinated by the co-sponsors all day long, and lastly, Thurston Moore (!) installed an awesome exhibition of his huge, rare chapbook collection in the front window on the Graduate Center for all to see.
Check out the full post.