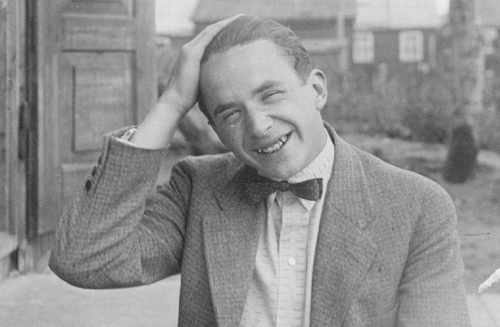 Like John Keats, Christopher Marlowe, Anne and Emily Brontë and Stephen Crane, Henry Parland was an immense talent who was taken from the literary world too soon. Born 105 years ago today, the whip-smart Finnish poet, novelist, culture critic and journalist died of scarlet fever at only 22-years-old. Parland's snappy, Modernist writing was shaped by the destabilization of Europe between the world wars and the literary influences of Finland-Swedish Expressionism, Dada, Die Neue Sachlichkeit from Germany, Russian Futurism and Formalism. Parland was also profoundly interested in international popular arts such as film (particularly Russian filmmaker Sergei Eisenstein and Charlie Chaplin) and fashion.
Parland published one exhilarating collection of poetry, Idealrealisation, during his lifetime; his poems are available in English in Ideals Clearance.
As our 2008 article on the prodigy states, "the poems in Ideals Clearance are unique in their casualness that verges on carelessness." Here's one in its entirety:
Locked doors
two drunk men
and a girl
groping
by the heartless wallpaper pattern.
And another quick and punchy gem:
My lies:
large, red balloons
that I buy on the street
and release into the heavens.
Once I bought a balloon
larger and redder than the rest.
It pulled me along.
For more treasures check out our comprehensive feature on Parland's life and work here.