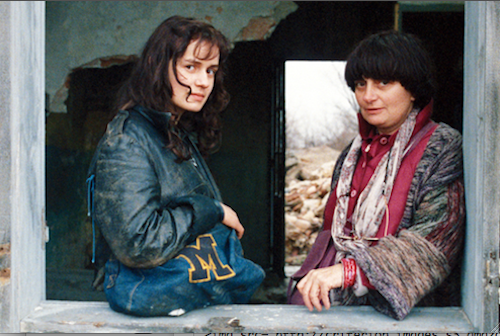 This Required Reading List from the collective of LIES: A Journal of Materialist Feminism, as commissioned by The Cluster Mag, is right on the money. They've included poetry from Alice Notley, Theresa Hak Kyung Cha, Alice Walker, and more--and the films! Vagabond, by Agnes Varda, Ju tu il elle, by Chantal Akerman, among others, are must-sees for us as well. More:
And so the journal is, according to some of its various members, "a communist journal against communists," a venue for "feminist writing on race, gender and capital, strongly inflected by a hatred of society," a way to be "overcome with the feminist commune," and "a platform for certain conversations and critiques that are impossible or dangerous if cis men are in the room." Though some members insist their project isn't intentionally mysterious—their friends know they work on LIES, they appear at launch events—the LIES editorial collective does not publicly list its members, and many contributors write under pseudonyms. It seems an effective tactic both to provide a level of coherency to a project whose rage is a primary point of coherency, and to give cover for a range of unpopular viewpoints. In the course of Vol. I, LIES takes sex-positive feminism, elder care, the Oaxacan women's movement, Occupy Wall Street, and the Weather Underground to task.

As one member told me, LIES is a political project, first and foremost; the collective is "just not interested in individual acclaim or 'credit' for the journal." In Vol. I's editorial statement (written as a shared google doc and worked over by every member), the editors claim two basic assumptions for their work: that gender is always intersectional with race and class, and that patriarchy is never a singular, "pure" relationship.

The 150-page issue contains a number of forms—poetry, personal essay, interview, manifesto, and historical document—but the beauty of LIES is most often in its approach to political theory. LIES takes theory not as the inverse of action, but as a live and twisting thing. The work in LIES does not string together clean sets of abstractions; its language doesn't often adhere to the conventions of the form. Some of its best contents are rendered with the eye of an academic and the voice of a high-level troll.

While we wait for Vol II, we asked some members of the LIES collective to curate a syllabus for us. "These works," they write, "though we may not agree with everything said, have had a great influence on our politics. Many of these books can be found in public libraries; most, if not all, of the articles can be found online.
Find the collective's picks here. Image above: Sandrine Bonnaire and Agnes Varda on the set of Vagabond.