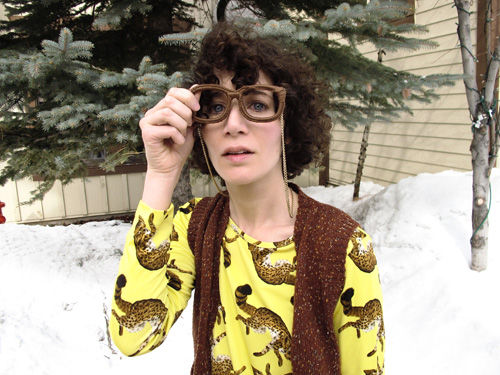 If you're a Miranda July fan, and/or interested in how art and surveillance might meet, you might be into her newest project, We Think Alone, which anyone may sign up for. Once you've done so, you will receive 20 emails over 20 weeks from some famousish people, "getting a peek" into their correspondence. Participants include Lena Dunham, Kirsten Dunst, Sheila Heti, and so on. Jacket Copy explains that the free weekly newsletter was "commissioned alongside an exhibition for Stockholm museum Magasin 3. It launched Monday[.]" Sarah Nicole Prickett at The Globe & Mail flexes the project's aims, and considers our relationship to privacy and surveillance:
"I was talking with some friends after the NSA thing happened," [July] says on the phone. July lives in Los Angeles with her husband, film and video director Mike Mills. "We were like, wouldn't it be radical if we just said, well, let's make everything not-private. I mean, if it's all going to be read anyway."

It's not all going to be read – unless you are famous, under investigation, or untrusted by your domestic partner. But actually, that's a lot of "unless." It surprises me that people – that I – don't write every e-mail as though it is going to be leaked. Even in countries less state-controlled than China or the United States, your gmails are hardly safe from forwarding or screengrabbing or, frankly, hacking (ask a hacker). And when you die, what? Knock on wood, but Collected Gmails of Thomas Pynchon can't be very far off. He must either write or delete with that in mind.

So July, as July does, has taken a common household fear and made it sweetly, strangely palatable. Even those who've found her sickening will like this project: She's not in it. None of the e-mails were originally sent to her, and none of her own e-mails are being sent.

"The first batch I got was from Catherine Opie, the photographer," says July, "and her e-mails were so intense, so long, so personal. She shifted my conception of the whole project, you know, and I realized I'm getting to see this person from her own point of view. Like, you sort of feel like you're in the driver's seat."

Or, like you are wearing a Google Glass with "Opie" etched on the theme. July has neatly inverted surveillance: Instead of looking through a window into someone's life, you're standing in their life, looking out an open window (and windows are now almost interchangeable with screens). This feels more like theft than voyeurism.
Of course non-privacy is so ingrained in some of us that at this point we too wonder if anyone writes without feeling watched or knowing that this window isn't the last window. But that's just a matter of self-presentation. Can't help but think these emails were concerned for this eventual venue, though? Prickett gets to that later re: Dunst: "I remember thinking we'd get all these surprising details [July said]. Then I got her e-mails and realized, oh, she's not going to share anything." Sign up!