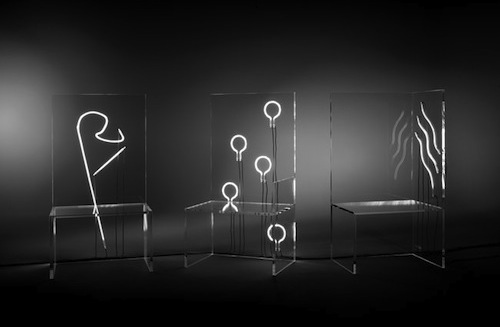 From the source: Ben Fama interviews Vanessa Place about VanessaPlace, Inc. at Bright Stupid Confetti. Choice words:
Ben Fama: When you appeared at the Ugly Duckling Presse Cellar Series, you recited several poems from the canon of Confessional Poetry...Plath, Bishop. Why?

Vanessa Place: I've got more pussy than you can swing at a cat.
More choice words:
Ben Fama: Do you believe in feelings and emotions?

Vanessa Place: You mean as in chairs?
Our link. More meaty:
Ben Fama: Can you tell us your style icons?

Vanessa Place: There's so many. Callas to Darboven, Rossellini to Goldsmith. Pink Chanel suits, Antigone sheaths, the belts of business travelers. Anyone who wears mirrors, or too much silver. The shirts of French sailors, Rob Fitterman, and Lino Ventura. Many of the fascists had good fashion, or at least the ones in the West.

Ben Fama: Your new artist book, Boycott (UDP 2013) takes iconic feminist texts and eliminates all reference to women and that which is exclusively female. The symbolic order becomes, perhaps even comically so while remaining deadpan, more apparently unified under the sign of the Patriarch. What attitudes inform your decision to create this work?

Vanessa Place: The work was originally inspired by Lacan's maxim, la femme n'existe pas, plus Lee Lozano's Boycott Piece (1972-1999), in which she stopped speaking to women. As you note, this becomes a dumb détournement of the sex which is one. There's also Wittgenstein's famous Proposition 7, an ethics of silence that may be the only possible ethics of the real woman. Or anything else. Though this seems more expatiation than attitude.

Ben Fama: You split time between Los Angeles and New York. Which do you prefer?

Vanessa Place: In New York, I go out. In LA, I stay in. New York is a great place to travel to; LA is a terrific place to travel from.

Ben Fama: How were you described as a teenager. What did you do for entertainment?

Vanessa Place: I was a great disappointment to my parents. I was a great disappointment to my parents.

Ben Fama: I attended the Cage 83 gallery launch of Vanessa Place Inc. a few months ago. You introduced the team, made statements and debuted your first product of 'art lit', a bound book of 20 one dollar bills, which sold out at $50 a copy. You also announced a future initiative called BookIt. Can you tell us about that?

Vanessa Place: BookIt allows anyone to turn anything into a published book of poetry. Or art. For $50, you can buy a BookIt ISBN number through VanessaPlace Inc, put it on whatever you like--a stump (plant or animal), a building, a point of view--and it will become a book published by VanessaPlace Inc. That is to say, it will circulate, or can circulate, as a book able to be bought, sold, traced as a book. Once you document your book in some fashion, such as by way of a video or photo, and send this to VanessaPlace.biz, I will personally blurb your book, and we will include it in our online catalogue. There are, of course, only a limited number of BookIt editions available, and they are expected to sell out rapidly as well. Like $20, BookIt absolutely effaces the distinction between life and art, art and commerce, poetry and the trade in personal perspective. In sum, another triumph of the commercial avant garde.

Ben Fama: The Vanessa Place Inc. pages states: "Place makes it the company's number one priority to fully serve the higher-culture customer. Your desires are our needs." Is your company targeting similar audiences to Gilt City's exclusive online clientele, or André Balazs Properties which includes a portfolio of hotels across the US and residences in New York?

Vanessa Place: Absolutely: our audience includes all exclusive clienteles.