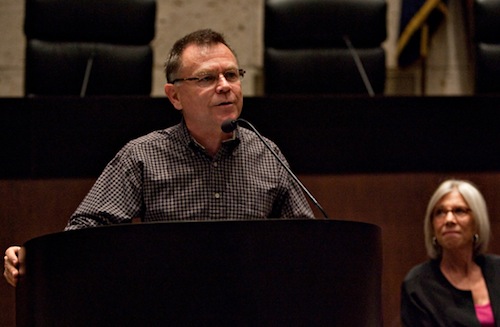 The Arizona Commission on the Arts just announced that Alberto Ríos will serve as the state's first poet laureate. As the press release reads:
In partnership with the Office of the Governor, the Arizona Commission on the Arts is pleased to announce that celebrated poet and Arizona State University Regents' Professor Alberto Ríos has been named the inaugural Poet Laureate for the State of Arizona. Arizona's Poet Laureate post commemorates and honors the wealth of Arizona literary artists who through their work and service, represent Arizona's values, independence, storied history and boundless potential. With this appointment, Arizona becomes the 43rd state in the nation to establish a Poet or Writer Laureate position.

Governor Jan Brewer said of the appointment, "I am proud to announce the appointment of Arizona's first Poet Laureate, in celebration of our state's remarkable literary history and future. Alberto Ríos demonstrates an unmatched dedication and love for the art of poetry. For more than four decades, his poetry and literary works have touched our communities and kept Arizona's culture and heritage alive. As Poet Laureate for the State of Arizona, Alberto will champion the art of American poetry, inspire an emerging generation of literary artists and educate Arizonans of all ages about the countless writers who have positively influenced our beautiful state."
Ríos was equally thrilled:
Ríos said of his appointment as Arizona's inaugural Poet Laureate, "This is a profound honor. A small-town border kid from Nogales to Poet Laureate—this is a good story, an Arizona story. As the state's first Poet Laureate, the work of inventing this job is now at hand, and I'm very much looking forward to the adventure. The Poet Laureate designation is an important way for Arizona and its people to express a public regard for the well-written word. I would like to be part of that statement, a line in that poem."
Read the full release and more about Ríos here.