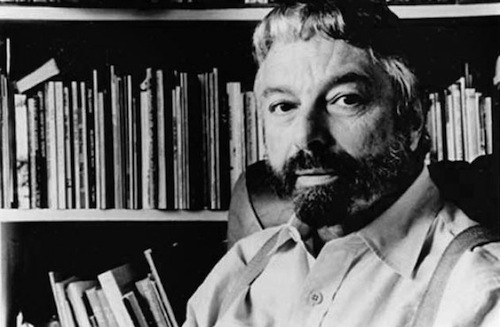 On City Lights's blog, Garrett Caples writes about the process of editing The Collected Poems of Philip Lamantia. Caples edited the collected along with Andrew Joron and Nancy Joyce Peters; it is published by University of California Press.
I've just received my first advance contributor copy of The Collected Poems of Philip Lamantia (University of California, 2013), which, with his widow, City Lights co-owner and director emeritus Nancy Joyce Peters, and my friend, City Lights author Andrew Joron, I edited for the University of California Press. This is in some sense the most important project I've ever worked on, for ultimately any writing I could do about him pales in comparison with the importance of making sure his poems get back out into the world. The appearance of Lamantia's Collected has lifted a weight from my shoulders, because I'd felt responsible for making sure the book was done right, as near as I could guess from knowing him and taking into account his mercurial, ahistorical sense of his own poetry versus the need to come to a final historical reckoning of it. Would he have been happy with the result? No way! That is, no earthly version of him from any historical period would have condoned the methods by which we proceeded. But I like to think there's a metaphysical Philip, now at peace, who at least understands, even if he doesn't fully approve, the reasons why we did what we did. We basically privileged the published books, except we deferred to his '60s rearrangement of his earliest surrealist work, because he never abandoned this preference after he returned to surrealism, seeing his first book, Erotic Poems (Bern Porter, 1946), as itself a Rexrothian rearrangement of his original surrealist impulse. Otherwise, we included all known published but uncollected poems and a few select unpublished poems. There are plenty of other cool unpublished poems in his archive that we didn't include, because we knew he wouldn't have wanted the unpublished work to overwhelm the published. He had exacting standards about what he put out there, and anything he hadn't published wasn't necessarily finished. In these principles we deferred to him but otherwise we let each period of Lamantia's work speak for itself, something he could never quite bring himself to do. He might edit some lines when reprinting a poem in a selected, for example, or retitle a poem, based on momentary esoteric qualms, but in all cases, we followed the first book appearance, letting the Lamantia of each period have his due like a succession of Doctor Whos. He was the many in the one. Philip himself was incapable of such a perspective—who wouldn't be—but I think it was the only way to do any kind of posthumous justice to the full measure of his genius.
Read more at the official blog of City Lights Booksellers & Publishers, Abandon All Despair Ye Who Enter Here.