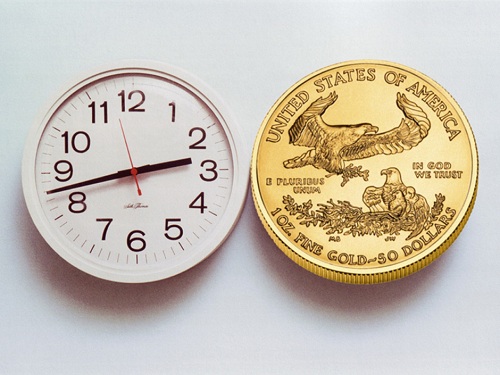 Hey have you heard? There's a new small press in town! Jointly operated by poet Dana Ward and artist Paul Coors out of Cincinnati, Ohio, it's Perfect Lovers Press. Yes, that's Perfect Lovers: like the iconic Felix Gonzalez-Torres artwork.
To kick off its first year, Perfect Lovers has already released a number of excellent chaps that we can't wait to read with a flashlight under the covers, including AIR BABY: AN EQUAL TO THE ATE NIPPLE?//I Worry/I don't/Believe in Books/or do owly///, by Debbie Hu; 128-131, by Wendy Trevino; How We Were Again, by Micah Freeman; Poems for Grown Ups & Children by Yvette Nepper; The Great American Beat Jack, by Dan Thomas-Glass, and even I Want This Forever, by Dana Ward and Paul Coors, guaranteed to achieve cult status as soon as you can say out-ta-print. (Printed Matter, are you on this?)
On their relationship to the press's namesake, Dana Ward writes:
One afternoon beneath those two clocks, Paul & I were working on a book together, to be included in an exhibition he had coming up. We decided to publish it under the name of a press, one that didn't yet exist. This yielded that pleasurable exercise of naming, of looking for the apt thing together. In our search, the conversation moved around in what we shared; frustrations of money & art, the breathtaking work of ours heroes & friends. We found ourselves talking about Perfect Lovers, & marveled at its rigor & depth. One reading offered our personal lives. Another gave huge world historical process. Then finally, our last reading opened on the ways in which these things were mainly, & bracingly, the same. We decided Perfect Lovers was just the right name. Both a tribute, & a fittingly succinct articulation.

So we released works of our own beneath the banner, then decided we should really get it up & running, have it function as a proper little press. This has meant some symptomatic fits & starts, of which they'll be more going forward, but regardless, he were are, a basic little happy operation.

Do we have a program? Oh, I don't know. If so, it's quite general & classic–to bring things we love into the world as cheaply, & quickly & as beautifully as possible. Books & editions. Stuff online. We hope to accommodate works that maybe haven't found a home by virtue of their weird or funny shape, things that disregard genre or media convention & too, things that ardently embrace them. But really finally anything, whatever; collaborations, dilettante eruptions, scrawls & screeds, meandering daydreams or rigorous theories (meandering theories as rigorous daydreams.) & maybe, just maybe, having meant to or not, these things will somehow engage or unfold, play or reckon, with the spirit of our namesake.
Learn more about the books and one new publisher we already love at Perfect Lovers Press.