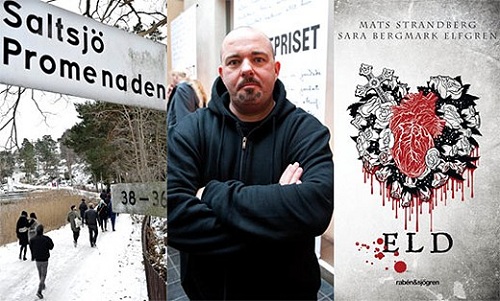 Our featured blogger for the month is Johannes Göransson, as you know; and he's just penned a response to Cal Bedient's much-debated essay on affect and Conceptualism for Montevidayo. Noting that the difference between the two, for Bedient, is a division of the head from the heart, Goransson writes: "Not only is this–as many people, including pro-conceptual types, pointed out in responses to Bedient's essay--a false dichotomy, but it also prevents Bedient from putting enough pressure on the word 'affect,' a term that has become a convenient catch-all word for various academic discussions." Göransson goes on to talk about a poet not as visible as the regulars, the Swedish conceptual poet Johan Jönson, "who is not only more extreme in his production than any of the American poets I've ever read (or thinked about) but who also really pushes me to consider 'affect' very seriously, and very affectedly." More:
Unlike Kenny Goldsmith's hygienic thinkership model of reading, Swedish conceptual writer Johan Jönson's work follows James Pate's words from the other day: "because they are books of action and event, they don't allow us lounge about on a clean, conceptual hillside, above the muck and dirt and sweat. They plunge us into it." Jönson's poetry is often an attack on capitalism, but one that cannot maintain the distanced stance of critique so often advocated by American experimental poetry. The poetry generates a violent ambience that explodes with capitalist urges and fears. Instead of the cool thinkership of American conceptualism, Jönson pulls the reader into an intensive zone where affect violently pulls in self and other, fantasy and reality, masculinity and masquerade.

how can i describe the shame
over my repeated poverty?
it's hard. Maybe.
it's possible to compare it to the repulsion.
that follows
one's own body. that
which has become the swallowed repulsion.
(from med.bort.in)

For me Jönson's poetry exists in that zone of "swallowed repulsion" – you have to get rid of it but you can't. There is no epiphany, no transcendence, no critique, just a violent impossibility. But as readers we cannot make it into an easy cliff-notes "concept," we have to plow through 1243 pages of med.bort.in; we have to try to spit out the poems but we can't. Unlike Goldsmith's books you don't have to read [supposedly, I actually find them a quite vivid reading experience], Jönson gives us:

An author who cannot read his own text.
*
A book that cannot be reduced.
*
A book that has become the day, the days' days.
*
This book's devouring.
Read more about Jönson here.