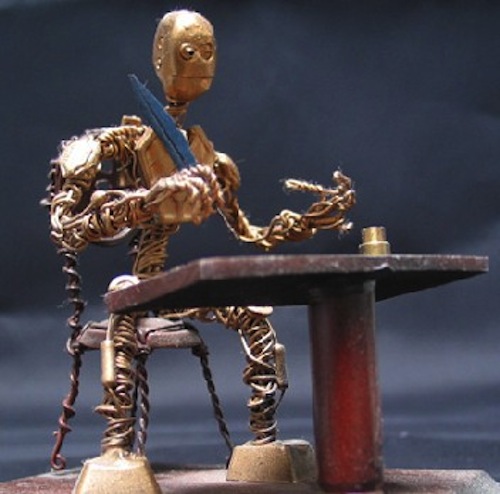 We just heard about a new school program in Pennsylvania that we think is kind of cool. According to District Administration:
Through grants, the Allegheny Valley (Pa.) School District, located about 15 miles from Pittsburgh, has expanded STEAM programs to prepare students for the competitive global economy reliant on innovation, design, and engineering. One such program is a Robotics Poetry unit for grade 8 and accelerated grade 7 students, allowing students to analyze poems through creating modern dioramas that can move to demonstrate the words or actions.

While STEM courses can be intimidating, including an art component often makes students more comfortable, says teacher Sue Mellon, the district's gifted support coordinator who teaches Robotics Poetry to language arts classes. The students "really get excited about this creative process—there's something about art they find exciting," Mellon says. The courses also give students hands-on experience with poetry, which on its own can be daunting, but is necessary to learn for the SATs and state tests.

Robotics Poetry was born two years ago, when Mellon took a course at Carnegie Mellon University called Education Robotics. She starting teaching the unit that fall with accelerated grade 7 and 8 students. This school year, with a $5,000 grant from the Consortium for Public Education, a nonprofit that works with districts across western Pennsylvania, she expanded the unit to all of grade 8, along with accelerated grade 7.

Students use Hummingbird Robotics Kits (made by a Carnegie Mellon lab), which include a circuit board, LED lights, vibration motors, and light sensors, to create an interactive diorama, which can be dismantled after each unit and used again. For example, one group of students analyzed the Emily Dickinson poem "I Held a Jewel in My Fingers," which is about a character who falls asleep holding a jewel, and wakes up to find it gone, with only the memory remaining.
This reminds us of another one of our favorite school programs in NYC. We can only hope to see more of this type of innovation nationally. Read the full post here.